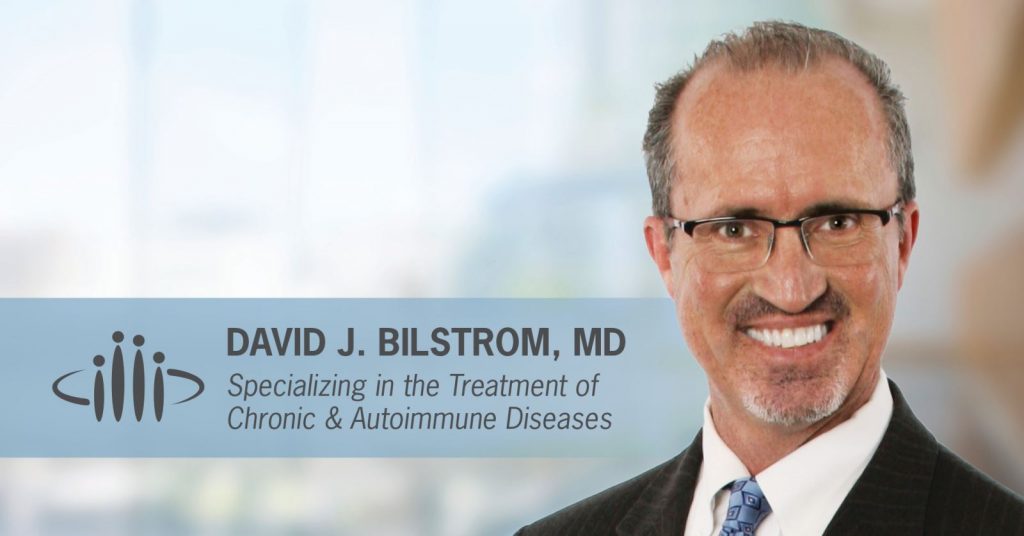 Welcome Dr. David J. Bilstrom, MD
We are pleased to welcome David J. Bilstrom, MD, to our medical team.
Dr. Bilstrom has been named Director of the recently established Bingham Memorial Center for Functional Medicine & International Autoimmune Institute—the first medical center in the country associated with a teaching hospital to treat all types of autoimmune diseases. It is also the first to use nature, and its ability to improve human health and well-being, as an integral part of a wellness program.
Functional medicine is a personalized medical model where a group of healthcare practitioners—primary care physicians, nurses, physician's assistants, nutritionists, counselors, dieticians, health coaches, and physical therapists—work closely together with patients to address the underlying causes of chronic and autoimmune diseases. They treat the whole patient, not just a disease or symptom.
Patients from around the world with chronic health issues see Dr. Bilstrom because their doctors have performed every exam possible, often times being told that their tests look normal, and, yet, they aren't any closer to feeling better. He takes a mind, body, and spirit approach and looks at every aspect of a patient to understand why their body is moving towards illness and disease, instead of towards wellness.
Dr. Bilstrom's primary goal is to find the best healing intervention for each patient and his treatments are unique to the medical community. He offers solutions to patients who have not found answers through traditional medical avenues. He is caring and compassionate, treats each of his patients with respect, and tailors his treatments to the goals and needs of each individual.
With 25 years of experience, Dr. Bilstrom is triple board certified in Physical Medicine and Rehabilitation, Functional and Regenerative Medicine, and Medical Acupuncture. He has experience in Anti-Aging & Regenerative Medicine, Acupuncture, Integrative Medicine, and Complementary and Alternative Medicines.
Dr. Bilstrom attended medical school at the University of Illinois in Rockford and completed his residency in Physical Medicine and Rehabilitation at the University of Colorado Health Sciences Center. He initially sub-specialized in Spinal Cord Injury Rehabilitation, serving as Associate Director of the Spinal Cord Injury program at Charlotte Institute of Rehabilitation in North Carolina. He also lectures nationally and internationally on issues related to pain management, acupuncture, complementary medicine, and health and wellness.
If you are looking for a potential solution to a chronic or autoimmune disease, Dr. Bilstrom is welcoming new patients of all ages to his office located within the Bingham Specialty Plaza in Blackfoot. Appointments can be scheduled by calling 208/782-2444.
Return to Articles