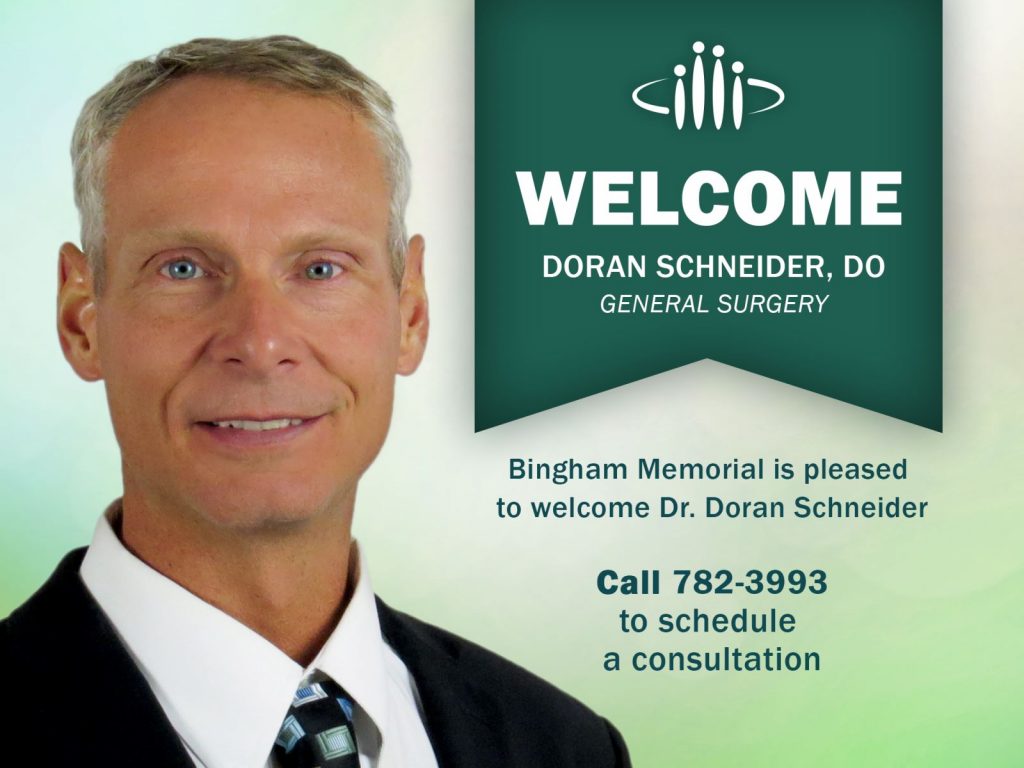 Welcome Doran J. Schneider, DO—General Surgeon
Bingham Memorial Hospital is pleased to introduce Doran J. Schneider, DO, who has joined our dynamic medical staff as a full-time, board-certified general surgeon. With more than 15 years of experience as a general surgeon, he has special interests in breast and colon cancer surgery, endocrinology, and advanced laparoscopic (minimally invasive) procedures.
Dr. Schneider's diverse experience also includes performing surgery on hernias, gallbladders, and cancers, such as breast and colon. He also performs upper and lower endoscopies and intestinal tract procedures.
"I became a doctor because I enjoy the mental challenge of thinking through a problem to be able to find a solution to help someone," says Dr. Schneider. His patients describe him as caring, kind, compassionate, and full of energy. He is devoted to his patients and places them first. He does this by helping them get whatever they need, spending extra time in appointments, and always doing what he can to exceed their expectations. He places an emphasis on family, being an integral part of the community, and providing high-quality care and optimal surgical technique.
After earning a Bachelor of Arts in Chemistry from Idaho State University in Pocatello, Dr. Schneider graduated with honors from Des Moines University of Osteopathic Medical Center in Des Moines, Iowa. He then completed his internship at Metropolitan Medical Center in Des Moines and a general surgery residency at the Mercy Medical Center in Des Moines. He is board certified by the American College of Osteopathic Surgeons.
Dr. Schneider was born and raised in Southern Alberta, Canada, and moved to the United States to play baseball in college. When Dr. Schneider is not practicing medicine, he enjoys spending time with his four daughters and fishing, hiking, playing baseball, golf, and hockey. Most recently, he's developed a passion for cooking and traveling.
Dr. Schneider's office is located on the first floor of the Bingham Memorial Medical Plaza in Blackfoot. He is welcoming new patients, and same day appointments are available. To schedule a consultation with Dr. Schneider, please call his office at (208) 782-2885.
Return to Articles