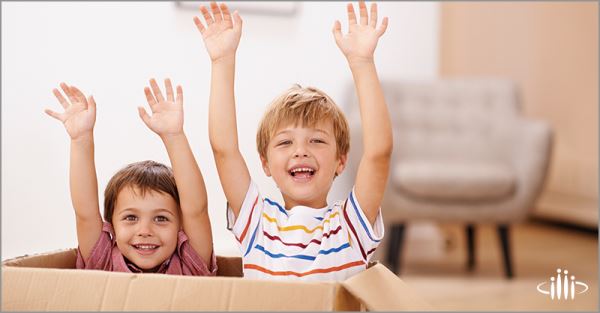 Ways to Keep Kids Active Indoors
"Kids who develop fundamental movement skills early tend to be more active later in life."
Due to everything go on, we're spending a lot more time indoors, which makes it easy for kids of all ages to turn to playing endless video games or watching too much television. Even though you're indoors, the American Academy of Pediatrics recommends that children should have moderate physical activity at least 60 minutes each day. They recommend finding activities that are fun for the kids and participate with them.
To encourage your kids or grandchildren to be active right now, be creative and look for blocks of five, 10, or 15 minutes where you can squeeze in a bit of active play. Focus less on the aerobic stuff and more on fundamental movement skills. Research shows that children who develop these skills—kicking, throwing, balancing, jumping, running, hopping, or skipping—tend to be more active in adolescence and adulthood. Plus, many of these activities will serve as a positive distraction, make people feel happier, and have many healthful benefits.
TODDLERS AND PRESCHOOLERS
Try these activities to help build motor skills. Simon Says is great for exercise, or try Copycat, where children have to mimic your movements. When they get older, upgrade to Magnet—they have to do the opposite of whatever you do. Give kids animals to imitate and you'll have them squirming like fish, hopping like frogs, or scrambling like crabs.
GRADE SCHOOL AGES
School-age kids are bursting with creativity. Watch them add their own spin to these ideas. Use pillows or the cushions from the couch to make an obstacle course they can crawl through. Play music and dance. Freeze dance is fun, too—choose music your family likes, then pause the music at random intervals. When the music stops, everyone freezes in position, which helps build balance.
Don't call them "chores." Put on music the kids like and see who can put their clothes or toys away the fastest. Or create a scavenger hunt—make a list of seven out-of-place items they have to find, show you, and put away.
TEENAGERS
Minimize the eye-rolling with these activities. It's kids versus adults. Who can do the most pushups, sit-ups or jumping jacks in one minute? Cleaning out a section of the basement or garage can be a workout. Join them, and use the chore time as an opportunity to teach correct lifting techniques.
For kids of all ages, encourage active video games that get kids moving ("exergaming"), or visit a rock climbing gym, a trampoline park, a skating rink, an indoor play place, or a bowling alley.
Even right now, active play for at least 60 minutes a day is an essential part of children's lives. We hope some of these ideas will help you and your family to curb cabin fever until things return to normal.
ADDITIONAL ARTICLES ABOUT COVID-19
Our content is reviewed regularly and is updated when new and relevant evidence is made available. This information is neither intended nor implied to be a substitute for professional medical advice. Always seek the advice of your physician or other qualified health provider prior to starting any new treatment or with questions regarding a medical condition.
Return to Articles