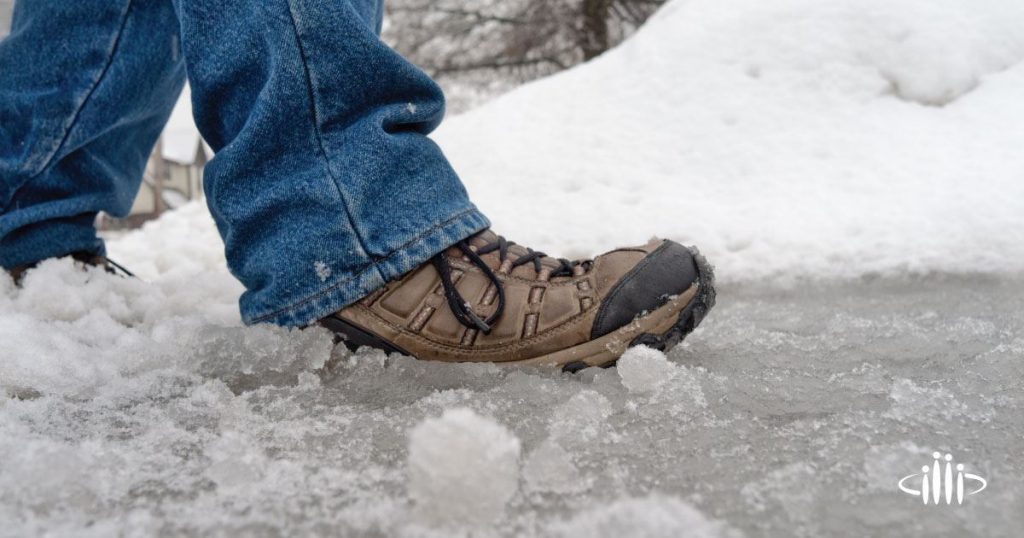 Watch Your Step
Within seconds, one wrong step while walking the dog, getting in and out of your car, or navigating a snowy or icy driveway or parking lot could result in a broken ankle. It may seem extreme, but even stumbling on a rock or tripping on a stair could force you to misstep, over correct, and ultimately hurt your ankle.
During the winter season, Dan E. Robinson, DPM, a board-certified podiatric surgeon at Bingham Memorial's Orthopedic Institute & Sports Medicine, treats many sprained and broken ankles. He shares the most common causes of a broken ankle and offers some sound advice for being cautious while walking around this winter.
Sprains vs. Breaks
There's no doubt about it. Spraining or breaking your ankle is extremely painful. While there are many signs to tell the difference between a sprained or broken ankle, in general, if you can stand and put weight on your ankle immediately after an injury and several hours later, you likely have a sprain. However, if you can't walk immediately after an injury (or later in the day), a break is more likely.
"Seeing your doctor is your best course of action so they can determine the severity of an injury and have an x-ray taken if necessary," Dr. Robinson says.
Common causes of broken ankles
Falls. Slipping, tripping, and falling can easily break bones in your ankle, as can landing on your feet wrong after jumping or exercising.
Impact from a heavy object. Dropping something heavy on your foot is a common cause of breaks.
Missteps. Sometimes just putting your foot down wrong, no matter what you're doing, can result in a broken bone.
Trauma. Anything from a car accident to a side-sweeping tackle in football or other sports injury could force an unnatural rotation in the ankle, resulting in a break.
Clearer signs of a broken ankle
Signs and symptoms of a broken ankle include pain that increases with use and decreases with rest, swelling, bruising, tenderness, deformity, or difficulty in bearing weight or walking.
"Because the ankle is comprised of three separate bones, doctors will use an x-ray machine to determine the exact location and severity of a break," says Dr. Robinson. Treatments for a broken ankle vary from a fiberglass cast or boot to surgery, depending on the severity, and usually take a minimum of six weeks to heal. Physical therapy is often recommended to help with mobility and range of motion after a cast or boot is removed. This also helps to prevent further complications later on.
Tips for staying safe and avoiding injury
"During the winter, please slow down and be aware of all of your surroundings, especially what's on the ground," Dr. Robinson says. "I tell my patients to use caution no matter what they're doing. Don't be in a rush. Even if you arrive somewhere a few minutes late, that's better than hurting your ankle or foot or even falling and potentially getting a concussion."
Dr. Robinson also suggests some of the following practical solutions to help you do your best to avoid a fall that could result in an injury.
Add traction devices to your footwear or wear shoes or boots with slip-resistant soles and good traction.
Keep an eye out for wet floors (from melting snow or rain) when walking into a store. Tell a store clerk if there is a slippery area so they can clean it up or put up a caution sign. Taking a minute to do this act of kindness could prevent someone else from hurting himself or herself.
Make sure you exercise to stay in shape and have healthy muscles.
Use railings whenever possible.
Walk like a penguin! Take short steps, spread your feet wider than usual, and bend your knees slightly to give you a better center of gravity.
In addition, check out this article about ways to prevent falls around your home.
Contact Dr. Dan E. Robinson, DPM
Unfortunately, not all slips and falls can be prevented. If you have an accident, or if you have questions about ankle or foot pain, or if you have experienced any of the symptoms associated with a broken or sprained ankle, schedule an appointment with Dr. Robinson. He is a foot and ankle surgeon who is board certified by the American Board of Podiatric Surgery.
He sees patients in Blackfoot, Idaho Falls, Pocatello and you can reach his office by calling (208) 782-2490.
Our content is reviewed regularly and is updated when new and relevant evidence is made available. This information is neither intended nor implied to be a substitute for professional medical advice. Always seek the advice of your physician or other qualified health provider prior to starting any new treatment or with questions regarding a medical condition.
Return to Articles