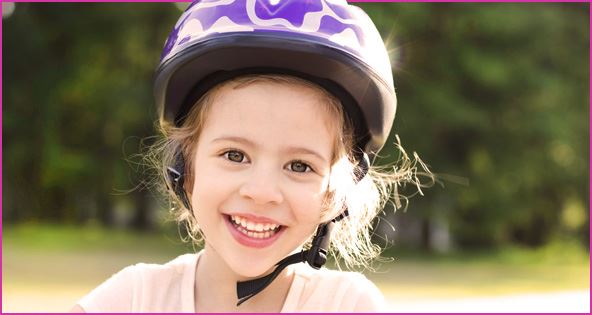 Use Your Head, Protect Your Noggin
"Up to 85 percent of bicyclists' brain injuries could be prevented by proper helmet use."
According to the Centers for Disease Control and Prevention (CDC), almost 500,000 emergency room visits for traumatic brain injuries (TBI) each year are made by children under the age of 14. And each year, emergency rooms nationwide treat nearly 175,000 sports-related traumatic brain injuries among children under the age of 19.
With these emergency room visits on the rise, we'd like to respond to common questions about brain injuries and provide you with ways to protect your children's heads.
What is a TBI?
A TBI is caused by a bump, blow, or jolt to the head or a penetrating head injury that disrupts the normal function of the brain. Not all head injuries result in a TBI, though, and the severity may range from mild to severe. Most TBIs that occur are mild and commonly called concussions.
Concussion symptoms
Typical concussion symptoms can include headache, nausea and vomiting, dizziness, blurred vision, sensitivity to noise and light, trouble with balance, and irritability. Sleep disturbances are also common. Some children who have suffered a concussion sleep more than usual, while others have trouble sleeping. Your child may experience symptoms immediately after an injury but, in some cases, it can take several days—or even weeks—for signs of a concussion to appear.
What to do for a concussion
If you think your child has a concussion, don't wait—take him or her to the emergency room immediately. In fact, taking a "wait and see" approach in the hope that symptoms will go away may make the situation worse. Because a concussion can change how the brain works, it's important to seek immediate treatment to prevent brain damage.
Keeping kids safe
There's no need to make your kids sit on the sidelines while their friends play football or climb on the jungle gym. Instead, embrace a "safety first" mantra to minimize your child's risk of concussions.
Exercise caution and protect their heads by ensuring they wear a good helmet while playing contact sports or riding bicycles, scooters and skateboards. The Bicycle Helmet Safety Institute says that up to 85 percent of bicyclists' brain injuries could be prevented by proper helmet use.
And, if an injury occurs after all you can do, remember, we're here when you need us with 24-hour emergency room care.
Our content is reviewed regularly and is updated when new and relevant evidence is made available. This information is neither intended nor implied to be a substitute for professional medical advice. Always seek the advice of your physician or other qualified health provider prior to starting any new treatment or with questions regarding a medical condition.
Return to Articles