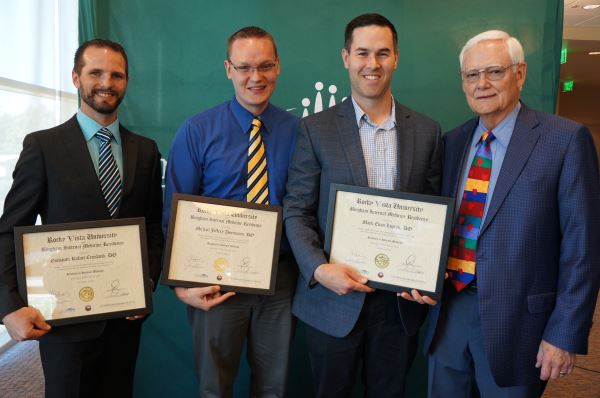 Three Residents Graduate from Bingham's Internal Medicine Residency Program and Four New Residents Start
BLACKFOOT, Idaho – June 16, 2018 – On Saturday morning, a graduation ceremony was held for Drs. Giovanni Crosland, Michael Doermann, and Mark Lupton of Bingham Memorial Hospital's (BMH) Internal Medicine Residency program. They were the second group of residents to graduate since the start of Bingham Memorial's residency program in 2014.
A primary goal of Bingham's residency program is to introduce doctors to rural healthcare, with the goal that they will want to stay in or nearby the region after graduation. "This has proven to be quite successful as three of the five residents who have graduated from Bingham Memorial's program so far have chosen to stay in Eastern Idaho, and even with one going to northern Utah and another going to the Provo area," said Jake Erickson, CEO of BMH. "We love the fact that these highly trained residents have chosen to stay and practice in our area or nearby."
The current three graduates have accepted positions at the following clinics:
Dr. Giovanni Crosland has taken a position in Tremonton, Utah, at Bear River Valley Hospital, working in an outpatient internal medicine clinic.
Dr. Michael Doermann has taken a position in Provo, Utah, at Utah Valley Hospital, working in an outpatient internal medicine clinic.
Dr. Mark Lupton has taken a position in Idaho Falls, Idaho, at Mountain View Hospital. He will split his time between an outpatient clinic and the inpatient hospitalist service.
"All of our graduates will be missed," says Mr. Erickson. "I have had the privilege of getting to know these fine doctors throughout the past few years, and they have made so many significant contributions to Bingham Memorial that have helped to change the lives of our patients. I am proud of their accomplishments and wish them all of the best in their careers."
In addition, four new resident physicians, all with ties to the Intermountain West, will be joining Bingham's Internal Medicine Residency program, starting the first of July. The four new residents, who hold their Doctor of Osteopathy (DO), are: Dr. Megan Hubbard, who graduated from Pacific Northwest University in Yakima, Washington; Drs. Sean Huggins and Tyler Wood, who graduated from Midwestern University in Glendale, Arizona; and, Dr. Mikelle Rogers, who graduated from AT Still University in Kirksville, Missouri.
The four new residents will be welcomed to Bingham's Internal Medicine Residency program at an annual welcoming ceremony on Monday, June 25. They will be formally introduced and presented with a traditional white lab coat, which represents their official career transition into doctors.
"We are excited to introduce another group of outstanding men and women for our 2018 class of residents," says Shane Robinson, administrative director of graduate medical education at BMH. "The goal of the Bingham Internal Medicine Residency program is to prepare resident physicians to work confidently in a hospital setting while providing high-quality and compassionate healthcare. Our new residents will have the opportunity to learn from world-class physicians who are dedicated to teaching the next generation of doctors."
All of Bingham Memorial's residents are all studying internal medicine, which is a medical specialty dealing with the prevention, diagnosis, and treatment of adult diseases. These include treating patients with high blood pressure, diabetes, heart failure, coronary artery disease, and chronic pulmonary disease. They will now spend the next three years training throughout Eastern Idaho to become eligible for board certification in internal medicine.
Residency is a required step and the final stage of a physician's graduate medical education before they go into practice.
Return to Articles