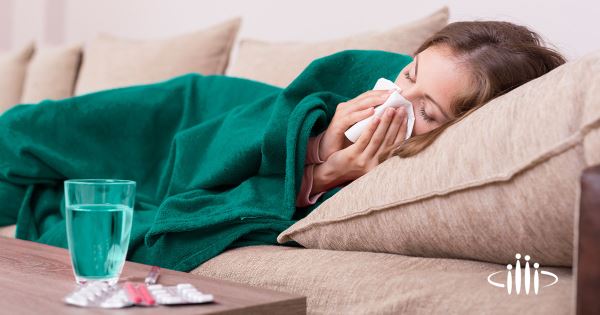 This Flu and Pneumonia Season—Protect the Ones You Love
It's that time of year again. Summer is in the rearview mirror and winter is coming, which means snow, chilly temperatures, and a rise in flu activity. The Center for Disease Control and Prevention (CDC) officials recommend people should begin getting vaccinated now—in early October—to ensure that as many people as possible are protected before flu season begins. However, as long as flu viruses are circulating in the community, it's never too late to get vaccinated.
While it's not possible to say with certainty what will happen in the fall and winter this year, CDC believes it's likely that flu viruses and the virus that causes COVID-19 will both be spreading. In this context, getting a flu vaccine will be more important than ever. CDC recommends that all people 6 months and older get a yearly flu vaccine.
Please note that if you get a flu vaccine, which, again, is highly recommended, it is not a vaccine for COVID-19. If you'd like to get the COVID-19 vaccine (for free), those, too, are available at all of Bingham Healthcare's urgent cares.
You may not realize how big of an impact you can have just by getting a flu shot. Getting vaccinated is not just about you. It's about protecting the ones you love and it's also about the hundreds of people you come in contact with on a regular basis as well. The more protected you are against the flu, the more protected the public will be as well. The more people who get a flu shot, the better chance everyone in our area has of not getting sick this year.
While it is suggested that everyone should get a flu shot, certain people are highly encouraged:
Anyone suffering from chronic lung or heart disease
Children under 5 and those between the ages of 6 months and 2 years old
Healthcare workers
Household contacts and caregivers of children under the age of 6 months, including breastfeeding women
People who live in extended-care facilities or nursing homes
Pregnant women or those who may become pregnant during flu season
With the flu season quickly approaching, now is the time to take precautions to protect yourself and the ones you love—especially children and the elderly. The flu vaccine will continue to serve as the best, first-line of defense for Idahoans. By getting a simple flu shot, you will have some level of cross-protection from various strains, which will help to reduce the severity and duration of most flu infections.
In addition to getting a seasonal flu vaccine if you have not already gotten vaccinated, you can take everyday preventive actions like washing your hands to reduce the spread of germs. If you are sick with flu, stay home from work or school to prevent spreading flu to others.
Pneumonia
In addition to getting a flu shot, did you know that older adults are at greatest risk of serious illness and death from pneumonia? Southeast Idaho has some of the highest hospitalizations in Idaho due to pneumonia and we also have some of the lowest vaccination rates. With your help we can change this! Two kinds of vaccines help prevent pneumococcal disease. We are asking you to join us in the fight against pneumonia starting today! The CDC recommends vaccination for adults 65 and older to help prevent pneumococcal pneumonia. Talk to your primary care doctor to get your recommended vaccines and reduce your risk!
Flu Shots are Now Available!
All Bingham Healthcare physician offices have received quadrivalent flu vaccines. While many flu shots only protect again two different flu viruses, the vaccine Bingham has on-hand is designed to protect against four different flu viruses: two influenza A viruses and two influenza B viruses.
Flu vaccines are covered with most insurance plans or are available for $20.00 without insurance. For more information and flu shot locations, please call (208) 785-4100 or visit BinghamMemorial.org/Family-Medicine.
Flu vaccines are also available at all of Bingham Healthcare's urgent cares: 1st Choice Urgent Care & Family Medicine in Blackfoot (208) 782-2410; Ammon Medical & Urgent Care in Ammon/Idaho Falls (208) 529-2828; 1st Choice Urgent Care – Bannock Highway, in Pocatello (208) 239-6511; and, 1st Choice Urgent Care & Family Medicine in Shelley (208) 357-3960.
Walk-ins at these locations are always welcome. No appointments are necessary.
Our content is reviewed regularly and is updated when new and relevant evidence is made available. This information is neither intended nor implied to be a substitute for professional medical advice. Always seek the advice of your physician or other qualified health provider prior to starting any new treatment or with questions regarding a medical condition.
Return to Articles