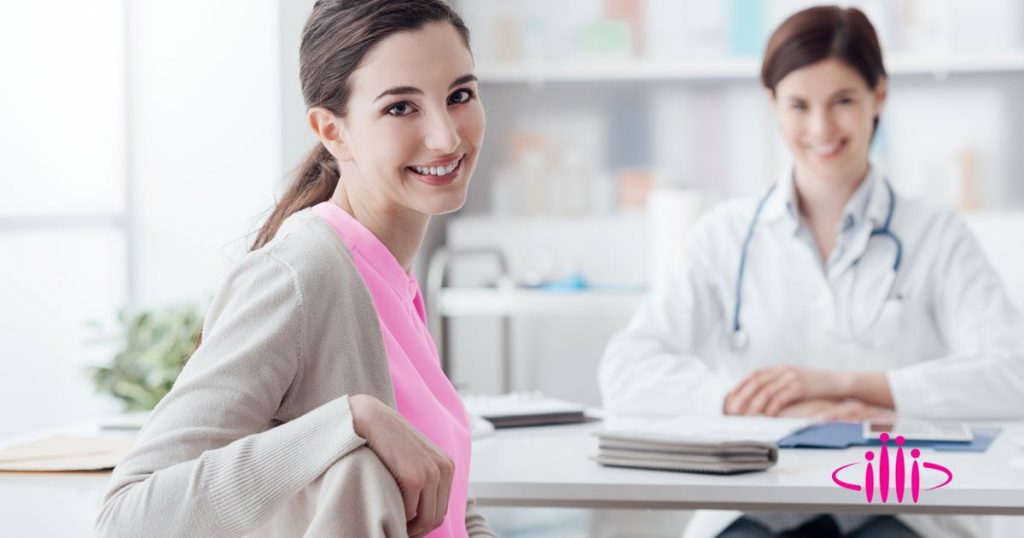 The ABCs of Breast Health
Millions of families are impacted every year by breast cancer, and as this month is breast cancer awareness month, we hope it serves as an important reminder of women's health and cancer screenings. This month is a great time for women to have their yearly mammogram. Why? Because breast exams save thousands of lives each year. Regular screenings—a combination of mammograms, clinical breast exams and self-exams—can help detect cancer earlier when it's easier to treat.
Breast cancer prevention starts with healthy living. From apples to X-rays, here is what you need to know to prevent this deadly disease.
A: APPLES
And broccoli, and whole grains, and fish, and all the other things that make up a healthy, low-fat diet. A report from the World Cancer Research Fund and the American Institute for Cancer Research claims that following a proper diet, along with staying physically active and maintaining a normal body mass index (BMI), could reduce all cancer rates by 30 percent to 40 percent.
B: BUTT, CIGARETTE
Evidence of a direct link between smoking and breast cancer is mixed. Active smoking and passive smoke inhalation, however, are known to cause at least 10 other types of cancer, not to mention heart disease, stroke, and bad teeth. So if you smoke, quit. Ask your doctor for help choosing a prescription or over-the-counter medicine to make quitting easier.
B: BUTT, YOURS
We don't mean to be rude, but obesity is linked to increased breast cancer risk, especially in postmenopausal women. Work with your doctor to control your weight. (See also HIKE, TAKE A.)
C: CHARDONNAY
Or beer, or single malt scotch—whatever your alcoholic drink of choice, keep drinking moderate. Limit your alcohol consumption or don't drink at all. Even one or two drinks a day appears to increase breast cancer risk.
D: DOCTOR VISITS
The American Cancer Society (ACS) says you should have a doctor examine your breasts every three years if you're between ages 20 and 39, and annually if you're 40 or older. The ACS guidelines advise you to discuss your personal risk factors, including the simple fact that you are growing older. And if your doctor determines that you are at increased risk for the disease, take the preventive steps listed here even more seriously.
H: HIKE, TAKE A…
A brisk, half-hour daily walk significantly reduces the risk of developing breast cancer, reports the massive Women's Health Initiative study of women ages 50 to 79. Of course, it doesn't have to be a hike. Any exercise—done for 30 minutes a day most days of the week—can help reduce cancer risk. Running, especially when combined with fundraising, is highly effective.
M: MAMMOGRAM
The ACS and other major health organizations continue to recommend regular screening mammograms. The U.S. Preventive Services Task Force found that mammography reduces mortality rates by perhaps 25 percent over 10 years.
[Insert client screening guidelines]
S: SELF-EXAM
Over the last four or five years, most major health organizations have taken a new look at the value of breast self-exams (BSEs). Major studies have found little or no connection between self-exams and reduced death rates. As a result, these health groups have put self-exams in the optional category. It's OK for women to choose not to do BSEs or to do them occasionally. However, if you do find anything unusual, report it to your doctor immediately.
X: X-RAY
That's what a mammogram is. And like most X-rays, it can be uncomfortable. To make yours less so, schedule your mammogram for the week after your period. Your breasts will be less tender then. And don't wear deodorant, powder, or lotion under your arms or on your breasts. These can show up as spots on the X-ray that might be confused for cancer.
EVERY WOMAN. EVERY AGE.
The Bingham Memorial Women's Center has Ob-Gyns to care for all of your women's health needs in Blackfoot and Pocatello. Call our office to schedule an appointment with any of our physicians at (208) 782-3900 or click here.
Our content is reviewed regularly and is updated when new and relevant evidence is made available. This information is neither intended nor implied to be a substitute for professional medical advice. Always seek the advice of your physician or other qualified health provider prior to starting any new treatment or with questions regarding a medical condition.
Return to Articles