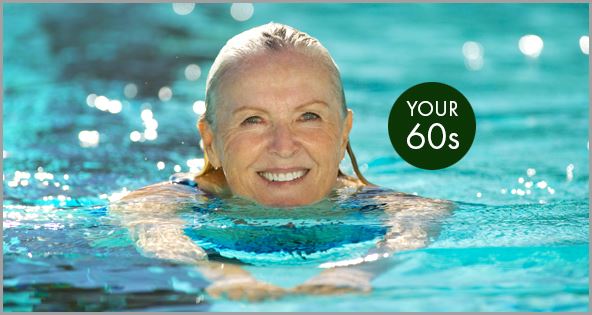 The 60s: Your Guide to Staying Healthy for Life By the Decade
It shouldn't be surprising, but if you're a woman, most likely you're busy with a capital B-U-S-Y. Over the years, your health may have fallen off the priority list, but now it's time to give your well-being the VIP treatment. Starting today, it's important for every woman, at every age, to create a foundation of good health.
In our on-going special five-part series, our team of obstetricians and gynecologists (OB/GYNs) at theBingham Memorial Women's Center have been discussing how you can stay healthy throughout your life—by-the-decade.
This month, Dr. Rex Nielsen, OB/GYN at Bingham Memorial Women's Center, provides advice for women in their 60s. These include healthy strategies and important screenings that should be scheduled regularly, along with simple things women in their 60s can be doing on a daily basis to manage their health.
IN YOUR 60'S
Focus on: Plan for the future and continue your healthy ways.
Stay-healthy strategies
"This is a good time to start thinking about important decisions, such as retirement and living wills," says Dr. Nielsen, an obstetrician-gynecologist (OB/GYN) at the Bingham Memorial Women's Center. "Ask yourself, 'How would I like to live?' Make plans early that both you and your spouse agree to."
Additionally, it's never too late to start exercising. No matter what age you start, you get the benefits, Dr. Nielsen says. Just be sure to clear any new regimen with your doctor first.
Screenings to schedule
Good news! If you're over 65 and your previous Pap tests were normal or you've had a hysterectomy (unrelated to cancer), you can cross that off your list.
Focus on getting a bone density screening at 65 and every two years after that.
Continue getting mammograms after 65 (every one to two years)
Diabetes testing (every three years)
Blood pressure checks (every year)
Cholesterol screenings (every three to five years).
Also, ask if you need a shingles vaccine (at age 60) and a pneumonia shot (at age 65). Colonoscopies are recommended every 10 years, so you're due again.
Do it Yourself: Keep your mind sharp by trying something new, whether it's enrolling in a class or taking on a new hobby.
SUMMARY              
Women in their 60s are at risk for melanoma (skin cancer), high cholesterol, breast cancer, cervical cancer, colorectal cancer, ovarian cancer, type 2 diabetes, osteoporosis, heart disease, and stroke. 

Recommended yearly tests and screenings in your 60s:

Annual wellness exam
Aspirin Therapy to prevent CVD (ages 55-79 as recommended by a physician*)
Blood pressure (at every doctor's appointment)
Bone density testing (age 65)
Cholesterol screening (every 5 years)
Colorectal screening (every 3 years)
Colonoscopy screening (every 10 years)
Diabetes/Blood sugar test (every 3 years, or yearly if overweight)
Fall Risk Evaluation (every year after age 65)
Flu shot
Mammogram (every 1 to 2 years)
Osteoporosis screening
Pap smear (every 3 years)
Pneumonia shot (every year after age 65)
Skin screening
Thyroid check (every 3 years)
*Aspirin Therapy: 
talk to you doctor to see if daily low dose aspirin is appropriate for you to lower your risk for cardiovascular disease.                           View the 30's Infographic
Dr. Nielsen is an obstetrician-gynecologist (OB/GYN) at the Bingham Memorial Women's Center. As an experienced OB/GYN, Dr. Nielsen is qualified to care for all women's healthcare needs and takes extra time to listen and fully understand your questions and concerns. He is always welcoming new patients, and to schedule a consultation, please call Dr. Nielsen's office today—in Blackfoot 782-3900 and in Pocatello 478-2472.
Return to Articles