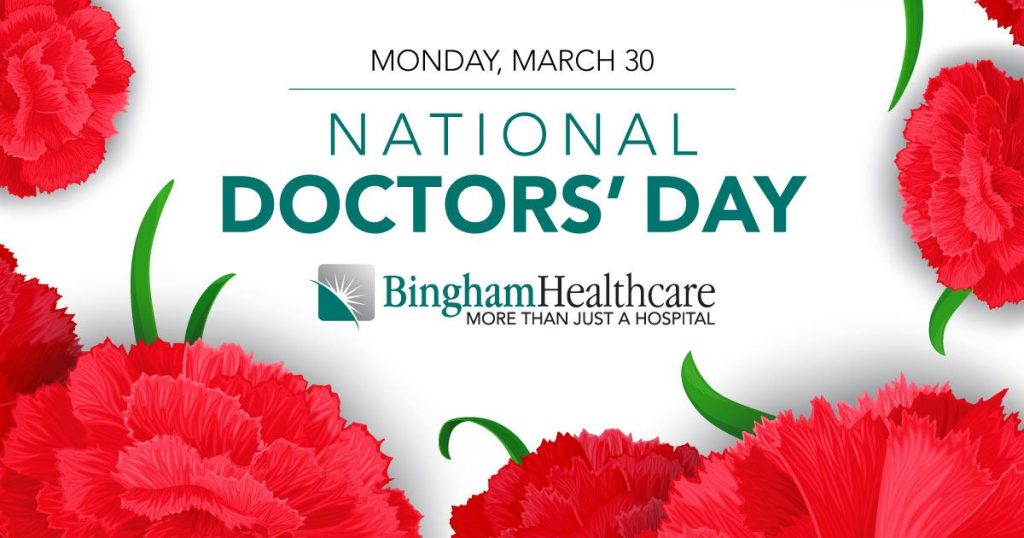 Thank You to Our Doctors on National Doctors' Day
In honor of National Doctors' Day on Tuesday, March 30, I wanted to take a moment to honor and celebrate the essential role that physicians play in caring for our community.
On behalf of everyone in the Bingham Healthcare family, I would like to thank all the gifted physicians in our community for their commitment, sacrifice, and hard work, especially highlighted even more so with the events that have transpired over the past year. In particular, I have been awe-inspired with everyone's incomparable work during the COVID-19 outbreak. I have greatly admired and appreciated your willingness to serve on the front lines during such an unprecedented and unpredictable pandemic.
Throughout my career in healthcare, I have had the pleasure of working with many extraordinary doctors. I value their insights on the community's health needs, their honesty, and their commitment to improving the health and well-being of all we serve. Every one of our doctors are integral members of our healthcare community.
Every day I receive heartfelt thank you notes and see posts on our social media accounts from patients who write about the compassionate care they have received from our physicians, and how their lives have been changed. I also have the opportunity to see our doctors giving people amazing gifts—delivering babies, helping children to grow healthy and strong, healing wounds, and providing people of all ages with hope.
Thank you for putting your talents forward in order reassure our patients and to save lives. Our families, loved ones, and neighbors depend on you to heal us, make us feel better, and provide physical and mental comfort. Thank you for the sacrifices you make on a daily basis and for the high-quality and compassionate care you provide to our neighbors. Thank you for your willingness to be the world's Good Samaritans.
Please be sure to reach out and say thank you to your doctor(s). Even the smallest sign of gratitude, like sending a card or simple thank you note, can be extremely rewarding, as it will help your physician to maintain perspective about why they have spent so much time and energy mastering their field of expertise.
At Bingham Healthcare, we are always pleased to offer peace of mind to you and your family by providing the best healthcare possible, and we take great pride in recruiting some of the best and brightest physicians in the world to care for you. Standing together with the rest of America, we say thank you and salute those doctors who have devoted their lives to the study and practice of medicine. Thank you for all that you do to keep our patients and community healthy.
Yours sincerely,
Jake Erickson, MBA/HCM
Chief Executive Officer at Bingham Healthcare
Return to Articles