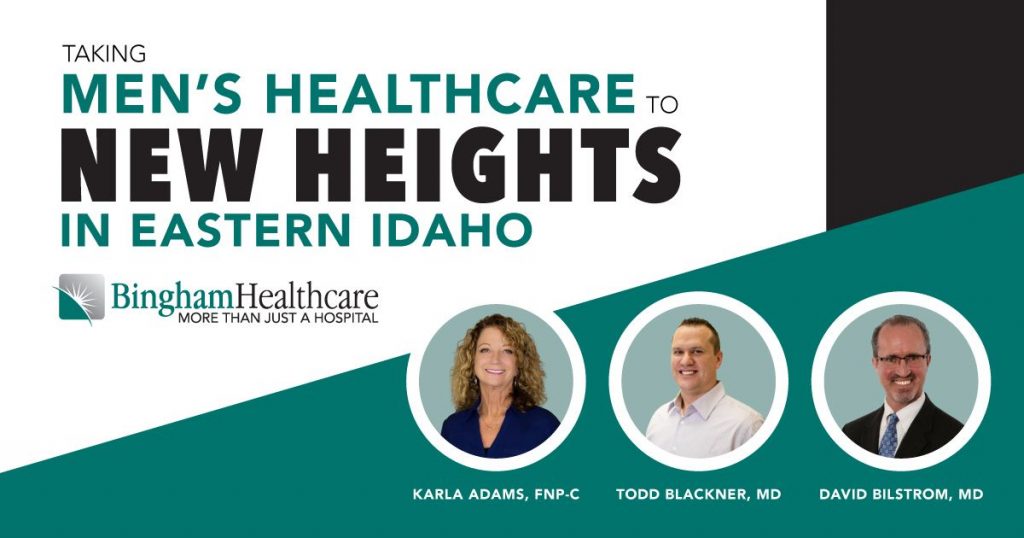 Taking Men's Healthcare to New Heights in East Idaho
While every June we celebrate Men's Health Awareness Month, it's important to address men's health year-round.
Recently, Dr. David Bilstrom, director of the International Autoimmune Institute & Center for Functional Medicine, attended a medical conference in Boston, Massachusetts. He met with some of the world's most influential researchers in men's health, many of whom work at some of the most well-respected institutions in the United States, such as Harvard, Yale, and John's Hopkins. They primarily discussed their inability to convince the U.S. government to support an extensive men's preventive awareness program like what has been done for women's health, with an investment of more than half a billion dollars to date.
Upon completion of this conference, Dr. Bilstrom and several other Bingham Healthcare providers decided it was time to take matters into their own hands. Instead of passively waiting for government initiatives to optimize healthcare programs for men, they decided to start their own Men's Health Initiative. As a result, Bingham Healthcare Family Medicine Specialists—Dr. Todd Blackner and Karla Adams, FNP-C—have teamed up with Dr. Bilstrom to raise awareness of some of the major health risks facing men today.
By using all that is now known about why men become unhealthy, the Men's Health Initiative will focus on the importance of reversing health issues that are already present, and in preventing new problems from cropping up as men age.
Worthy of note, Bingham Healthcare currently has a program that provides optimal disease reversal and prevention for those with autoimmune disease. This program's excellence in quality care has drawn patients to Eastern Idaho from as far away as Alaska, Hawaii, and the East Coast of the United States.
The Men's Health Initiative at Bingham Healthcare new will take this same approach, applying the focus of reversal and prevention to all major health risks men face today. This type of focus is not provided anywhere else in the U.S. and Bingham Healthcare has set out to change that.
One hundred years ago, men lived longer than women by an average of one year, according to the Centers for Disease Control and Prevention. But today, the average woman lives six years longer than the average man. Furthermore, men are 60% more likely to develop heart disease than women, and men are 44% more likely to get cancer. This can be attributed to the fact that men are less likely to adopt preventative health measures, more likely to engage in risky behaviors, and are more likely to go long periods without seeing a doctor.
Aches, pains, fatigue, brain fog, loss of motivation, irritability, erectile dysfunction, and abnormal weight gain are often things men try to power through. Many don't want to see a doctor just to hear what "disease" they have. When it comes to optimal disease reversal and prevention, the Men's Health Initiative program is much more concerned with identifying the reasons why men are not feeling their best instead of just labeling a disease and moving on. Understanding "why" you are not feeling your best can paint a clear picture of how your health can be restored.
The major health risks that men often face, like obesity, heart disease, colon cancer, diabetes, Alzheimer's, can be prevented; even reversed and cleared when treated early.
Even women can help by encouraging the men in your life to take even the smallest symptoms seriously and have them discuss them with the healthcare professionals at the Men's Health Initiative. You will be helping them take a more active role in their own healthcare. And by educating yourself about potential male health problems and passing that information on to the men you love, you may also be able to save a life.
Schedule an appointment today
If you currently have any health issues that are adversely affecting your quality of life or you would like to prevent them from occurring in the future, pick up the phone and schedule a visit.
Meet Todd Blackner, MD
Dr. Blackner has 14 years of medical experience and specializes in family medicine. His office is in Shelley, Idaho. Dr. Blackner will see all Men's Health Initiative patients who live in Shelley and all areas north of Shelley.
Appointments can be scheduled by calling (208) 357-3960.
Meet Karla Adams, FNP-C
Karla is a certified family nurse practitioner and has been working in the medical field for more than 26 years. Karla's office is in Blackfoot, Idaho. She will see all Men's Health Initiative patients who live in Blackfoot and all areas south of Blackfoot.
Appointments can be scheduled by calling (208) 782-3990.
Return to Articles