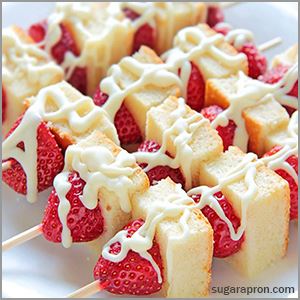 Strawberry Shortcake Kabobs
Nothing says "Be My Valentine" like these easy-to-make homemade Strawberry Shortcake Kabobs—a loving trio of fresh strawberries, shortcake, and a white chocolate drizzle.
Recipe modified from sugarapron.com
Click for Printable Recipe Sheet
INGREDIENTS:
2 boxes strawberries
1 bag of white chocolate chips
Optional toppings: caramel, milk or dark chocolate
Shortcake:
1 box of white cake mix
3/4 cup of Greek vanilla yogurt
2 egg whites
1 1/3 cups of water
Tip: If pressed for time, pick up a pre-made shortcake or angel food cake from the bakery section of the grocery store.
INSTRUCTIONS:
Combine the cake mix, greek yogurt, egg whites and water in a bowl.
Mix until smooth and pour into a greased cake pan or dish (9×13).
Bake at 350 for 20-25 min until toothpick comes out clean or according to directions on the box.
Cut stems off of strawberries and halve them in order to create uniform sizes.
Cut shortcake into 2-inch cubes.
Take skewer and alternate strawberries and shortcake cubes. (You can fit three or four of each per stick).
In a glass bowl melt chocolate in the microwave for about two minutes stirring every 30 seconds. Once fully melted, insert it into a large plastic bag and cut off the corner tip.
Drizzle chocolate and other toppings all over kabobs and place in fridge to set.
Return to Articles