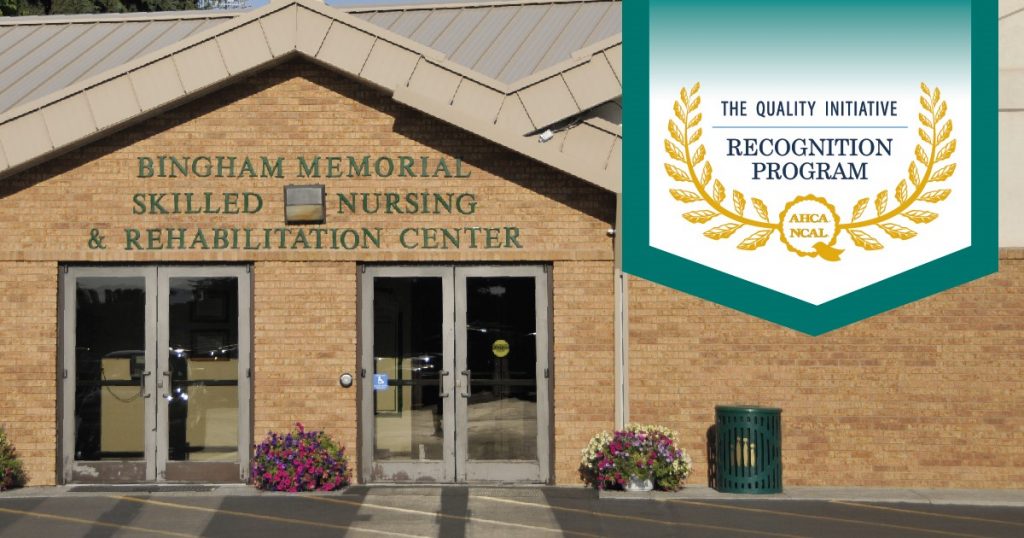 Bingham Memorial's Skilled Nursing & Rehabilitation Center Earns Quality Improvement Recognition
BLACKFOOT, ID – June 4, 2018 – Bingham Memorial Hospital (BMH) is pleased to announce that their Skilled Nursing & Rehabilitation Center has met the criteria for the American Health Care Association (AHCA) and National Center for Assisted Living (NCAL) Quality Initiative Recognition program. The Quality Initiative Recognition program is designed to recognize AHCA nursing center members that demonstrate the attainment of four or more of the AHCA Quality Initiative goals.
"Improving quality care as a profession requires dedication from many organizations," said Mark Parkinson, president and CEO of AHCA/NCAL, in a press release. "The program provides an opportunity to shine a spotlight on the progress that our members have made by achieving the Quality Initiative goals and improving care for individuals living in their communities. I commend their hard work."
In 2012, the Association launched the Quality Initiative as a national effort to build upon the existing work of the long-term and post-acute care profession. The initiative aims to further improve quality of care in skilled nursing centers and assisted living communities by challenging members with specific, measurable targets.
"Congratulations for your extraordinary efforts in meeting measureable targets, which improve the lives of the people you serve," said Dr. David Gifford, MD, MPH, AHCA/NCAL senior vice president of quality and regulatory affairs. "Your achievement inspires others and invigorates our work here at AHCA/NCAL."
"This achievement represents not only our improvement for a set of quality measures in our facility, but also our ongoing commitment to improving the lives of the individuals we serve," said Mark Teckmeyer, administrator of Bingham Memorial's Skilled Nursing & Rehabilitation Center. "This includes fewer hospitalizations, an increase in patient satisfaction for long and short stays, and stopping the use of antipsychotics that can be harmful. Our physicians and caregivers focus on providing excellent care to guests staying with us long-term, and our rehabilitation teams develop tailored plans to meet the needs of each individual patient to achieve optimal outcomes."
Bingham Memorial's Skilled Nursing & Rehabilitation Center offers many unique benefits for the citizens of Eastern Idaho in addition to providing a safe and secure environment that enhances personal growth. This includes mentally stimulating social activities and exercises that help guests become stronger while staying long-term, or who are recovering from a surgery, illness, or injury.
For anyone requiring a positive long-term care solution or a short-term stay for rehabilitation, tours of Bingham Memorial's Skilled Nursing & Rehabilitation Center are always available. To schedule an appointment to visit, or for more information on their facilities or services, please call (208) 785-4101.
Return to Articles