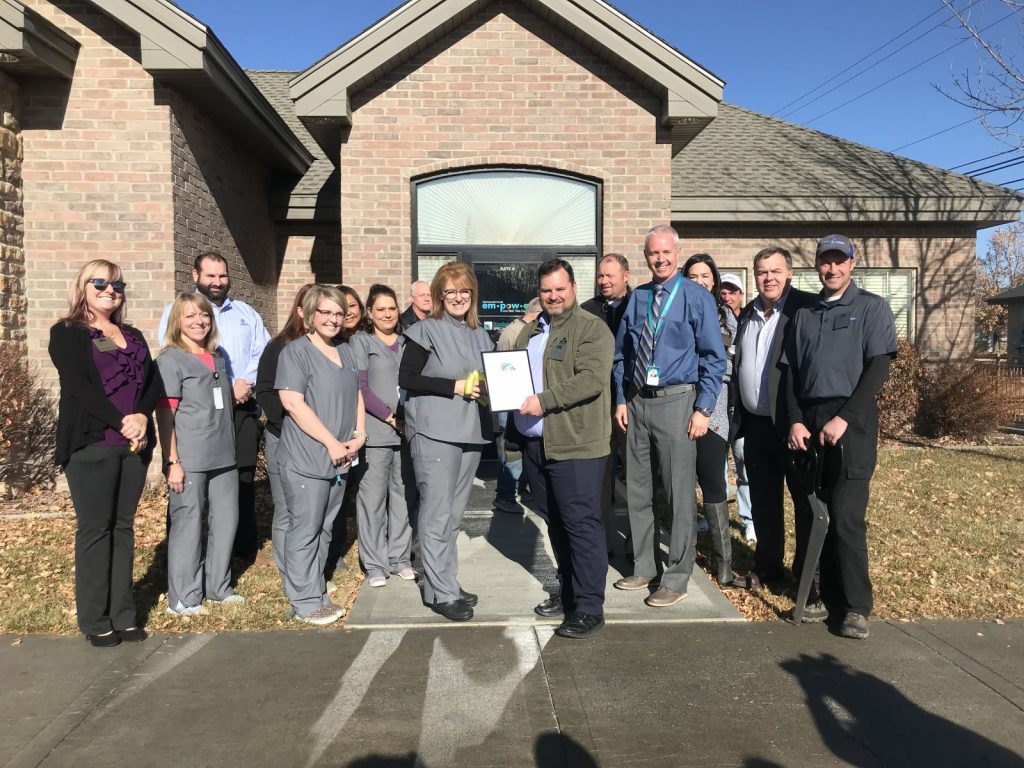 Ribbon Cutting Held in Idaho Falls for New Weight-Loss Program Clinic
BLACKFOOT, ID – November 21, 2019 – Bingham Healthcare hosted a ribbon cutting and open house to educate the public about their new weight-loss program called EM-POW-ER. A ribbon cutting ceremony was held outside of their newly renovated space located at their new Idaho Falls location:
Bingham Healthcare Specialty Clinic – Martha
1975 Martha Ave., Suite A
Idaho Falls, ID 83404
Guests took tours of the building and talked to weight-loss specialists, as well as Dr. Tammy Fouse, bariatric and general surgeon at BMH, about the new program. Light refreshments were also served.
"For more than a decade, the specialists at Bingham's weight-loss program have been helping thousands of people to take control of their weight and improve their lives," says Fouse. "But, while our team has always been committed to providing information about dietary, exercise, and mental health care that is also necessary for recovery, I knew there were other ways we could be supporting our members. This is why we created EM-POW-ER."
Bingham Healthcare's EM-POW-ER weight-loss program features high-quality and compassionate care provided by a dedicated team of weight-loss specialists. In addition to non-surgical and surgical weight-loss options, their holistic health and wellness program includes customizable exercise programs, support groups, and self-improvement classes (e.g., cooking and nutrition as well as yoga and meditation classes). The program also has specific paths to help teenagers who are struggling with their weight as well as classes dedicated to a woman's overall health and wellbeing.
"There is definitely not a one-size-fits-all approach to weight loss," says Fouse. "In order to help people in their pursuit of weight loss and an improved quality of life, I'm pleased that our new holistic health and wellness program now offers weight-loss and healthy lifestyle plans specifically tailored to an individual's needs. I want everyone to have the support they need on what can sometimes feel like an isolating and difficult journey."
Bingham Healthcare's weight-loss program is the No. 1 choice for patients throughout Eastern Idaho seeking surgical treatment for severe obesity. Since 2012, they have been the only accredited Bariatric Center of Excellence in Eastern Idaho. Last year, Regence BlueShield of Idaho and Blue Cross recognized BMH with a Blue Distinction® Center for Bariatric Surgery designation as part of the Blue Distinction Specialty Care program. These nationally designated healthcare facilities meet the highest industry standards for patient safety and quality of care.
If you are interested in learning more about Bingham Healthcare's new weight-loss program, they hold FREE weight-loss seminars once a month in Blackfoot, Idaho Falls, and Pocatello. To learn more about an upcoming seminar or to register for one, please visit: 
www.BinghamMemorialSeminars.com/Weight-Loss
Return to Articles