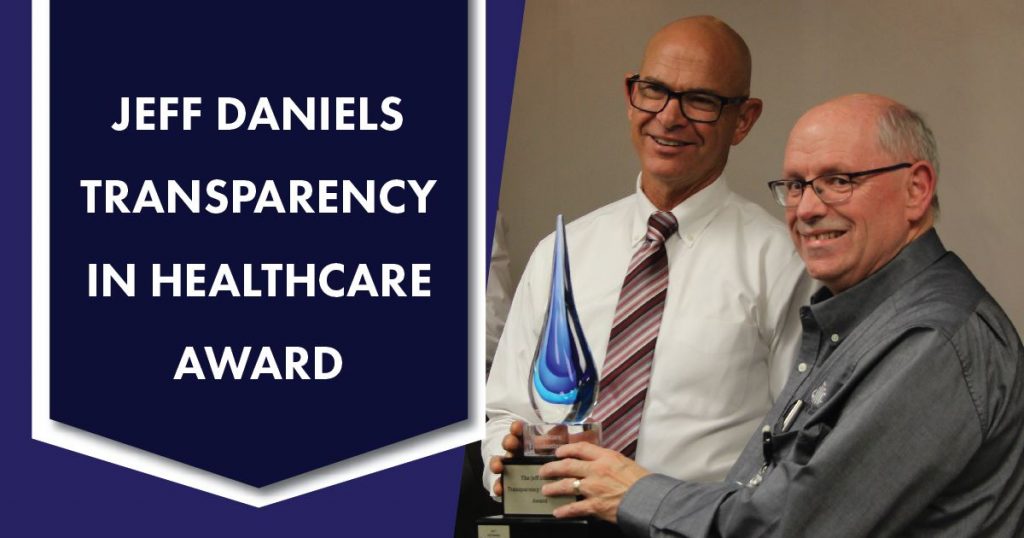 Retired BMH CEO Receives Special Honor
BLACKFOOT, ID – November 27, 2017 – Don Reiman, president and founder of the Echelon Group, presented Jeff Daniels, retired CEO of Bingham Memorial Hospital (BMH), with the Jeff Daniels Transparency in Health Care Award at a ceremony held at BMH on Friday, November 10. This award was the 1st annual award named after Mr. Daniels in honor of his tremendous achievements, acknowledging him as a trendsetter throughout his career, and highlighting his financial acumen, vision, and compassion, combined with his courage to take on the traditional system of the healthcare industry.
"To honor Jeff's contributions as a trendsetter in his field, Echelon Group has sponsored an award to recognize trendsetters like Jeff each year, for their contributions toward creating greater transparency in healthcare," Mr. Reiman said during the award ceremony. "Jeff has had a long and successful career in the healthcare industry, with many distinguishing accomplishments."
One of many examples of Mr. Daniels' forward-thinking approach to healthcare includes how instrumental he was in bringing the latest in innovative technology to the people of Eastern Idaho. BMH's robot-assisted surgery program has quickly become one of the nation's leaders, with more advanced minimally invasive surgical options in the area than ever before. With his foresight for strategic and fiscal planning, he has approved more than $45 million in capital expenditures, including the capital purchases of the da Vinci surgical robotics system, the Mazor X robotics system for spinal fusions, and the Mako robotic-arm assisted surgery system for technologically advanced knee and hip replacements.
In addition, Mr. Daniels was instrumental in implementing the Bingham Direct solution. "This is a positive disruption in the delivery and costs of healthcare," Mr. Reiman said. "This allows employers to control costs and improve healthcare benefits for their employees."
All of Jeff's contributions are already having a significant impact on the delivery of healthcare throughout the entire state of Idaho and nationally.
"His commitment to transparency and willingness to fight against the out of control medical costs are changing healthcare in Blackfoot and Eastern Idaho," Mr. Reiman said. "Thank you, Jeff, for all that you have accomplished as a trendsetter in the healthcare industry."
Return to Articles