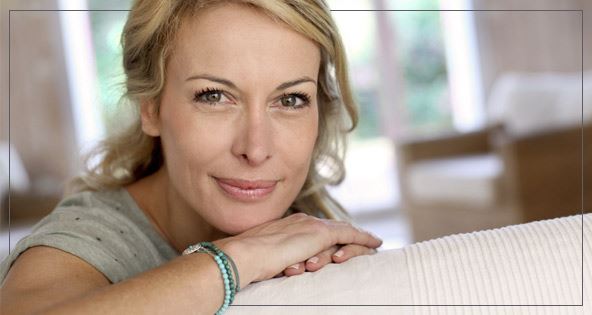 Part 2: Navigating the Stormy Weather of Menopause
Part II: Hot Flashes
Like so many women in the prime of their lives, Cheryl Miller was too busy with life's responsibilities to pay attention to perimenopause's first signals. Join us for Part II in our series on Navigating the Stormy Weather of Menopause.
Perimenopause literally means the time "around" menopause and is a term used to describe the beginning of the estrogen decline leading to menopause. However, many women use the term "perimenopause" to describe the time when they first begin to notice menopausal symptoms.
HOT FLASHES
Signal: The hormonal heat wave known as "hot flashes."
Cheryl recalls a road trip to her husband's 20th high school reunion during an icy winter. She was sweating and asked her husband to crank up the car's air conditioner.
"I was sitting there in short sleeves, no coat, with my arms raised up over the vent to get cool air because I was having waterworks under my left armpit," she says. "Meanwhile, my husband was wearing a hoodie, a scarf and a big heavy jacket, and he was just freezing. When we got to the reunion, I ended up putting on a jacket and never taking it off because it was just too humiliating."
Storm advisory: As Cheryl discovered, hot flashes can hit when you least expect them.
How to weather it: "Perimenopausal women may get occasional hot flashes when their estrogen levels drop, often around the time of their period," says Dr. Pugmire.
"First, try to stay cool—both physically and emotionally. Having emotional reactions can trigger hot flashes, as can letting your body get a bit too warm," says Dr. Pugmire.
Dr. Pugmire also suggests wearing layered clothing to allow for flexibility and to keep the temperature around you lower. Low-speed fans can do the trick, along with clothing made of fabric that can wick moisture away from your body. Occasionally, medications can be helpful but hot flashes are not dangerous to your health.
Click here to read Part I of this series which addresses irregular periods.
Dr. Pugmire is an obstetrician-gynecologist (OB/GYN) at the Bingham Memorial Women's Center. As an OB/GYN, Dr. Pugmire is qualified to care for all of women's healthcare needs. She also understands the challenges facing today's women, and encourages patients to be open with her so she can provide the best care for them.Dr. Pugmire is always welcoming new patients, and to schedule a consultation, please call 782-3900.
Return to Articles