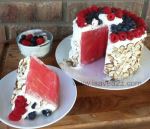 No Bake Watermelon Cake
Wow them with this delicious No-Bake Watermelon Cake, the perfect healthy treat for those hot Summer days (and nights)!
Click for Printable Recipe Sheet
INGREDIENTS:
Ingredients:
1/3 cup whipping cream (recommended variation: 1 tub whipped cream)
12 oz. plain greek yogurt (recommended variation: vanilla, lemon, honey or your favorite flavor)
2 tbsp. cream cheese
2 tbsp. granulated sugar
1 tsp. lemon juice
1 medium seedless watermelon, well-chilled
Blackberries, red raspberries, and sliced almonds
Directions:
Pour whipping cream in small mixing bowl and chill in refrigerator for 10-20 minutes (cream is easier to whip when chilled).
In Medium bowl, mix together yogurt and cream cheese.
Once whipping cream is chilled, add sugar to cream and whip with whisk or electric mixer until moderately stiff peaks form (be careful not to over whip). Add whipped cream and lemon juice to yogurt/cream cheese mixture and chill.
Slice off both ends of the watermelon, carve rinds off sides to make a round cake-shape.
Place watermelon on serving plate, pat dry and frost the top and sides with chilled whipped cream mixture.
Decorate with berries and almonds. Keep well chilled until served.
(recipe source: aicr.org)
Return to Articles