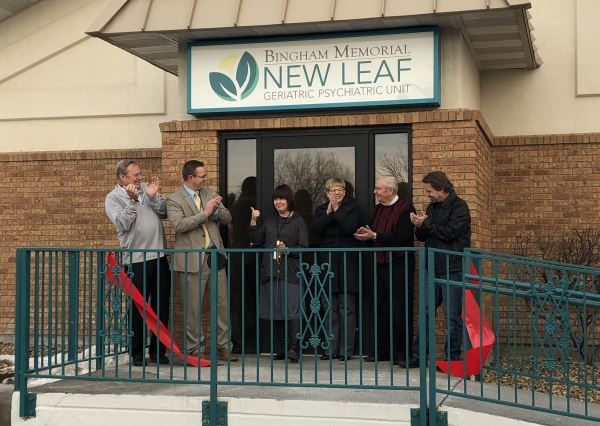 New Leaf Geriatric Psychiatric Unit Now Open
BLACKFOOT, ID – January 22, 2019 – Today, Bingham Memorial Hospital (BMH) employees and community members turned out for a ribbon cutting for the Bingham Memorial New Leaf Geriatric Psychiatric Unit (New Leaf), which opened on January 1, 2019.
As a much-needed service in Eastern Idaho, the caring and compassionate team at New Leaf focuses on the prevention, evaluation, diagnosis, and treatment of mental and emotional disorders in the elderly. The unit is staffed by medical personnel specially trained to treat older patients with symptoms due to psychiatric conditions and unique mental health needs, such as mood disorders, anxiety, grief, and addiction. The unit is led by Christine Harris, director, and all of the psychiatric health services are directed by Richard Brown, DO, psychiatrist at BMH.
"As our baby boomer population ages, the need for geriatric behavioral health services is growing," said Harris. "We want community members throughout Eastern Idaho to understand that, with the appropriate care, the behavioral health issues of our aging population are treatable and recovery is possible.
The inpatient unit offers 24-hour nursing care, individual therapy sessions, and intensive medication management, with the goal of helping patients return to a level of stability that allows them to improve their quality of life.
"Previously, patients were forced to travel long distances outside of our community to receive geriatric psychiatric treatment," said Jake Erickson, CEO at BMH. "We are pleased to be able to now offer geriatric psychiatric care in a secure environment and to give our seniors the support they need to continue living meaningful lives as they age."
About Bingham Memorial Hospital, a proud member of Bingham Healthcare
Bingham Memorial Hospital is a 501(c)3 non-profit critical access hospital located in Blackfoot, Idaho. Bingham Memorial Hospital is committed to the pursuit of excellence in our endeavor to provide a continuum of quality, compassionate, healthcare services for residents and visitors to east Idaho, in the most efficient and cost effective manner possible. They have healthcare facilities in Blackfoot, Idaho Falls, Pocatello, and Shelley, Idaho.
For more information, visit binghamhealthcare.org or call (208) 785-4100.
Media Contact:
Mark Baker
98 Poplar Street
Blackfoot, ID 83221
mbaker@binghammemorial.org
Return to Articles