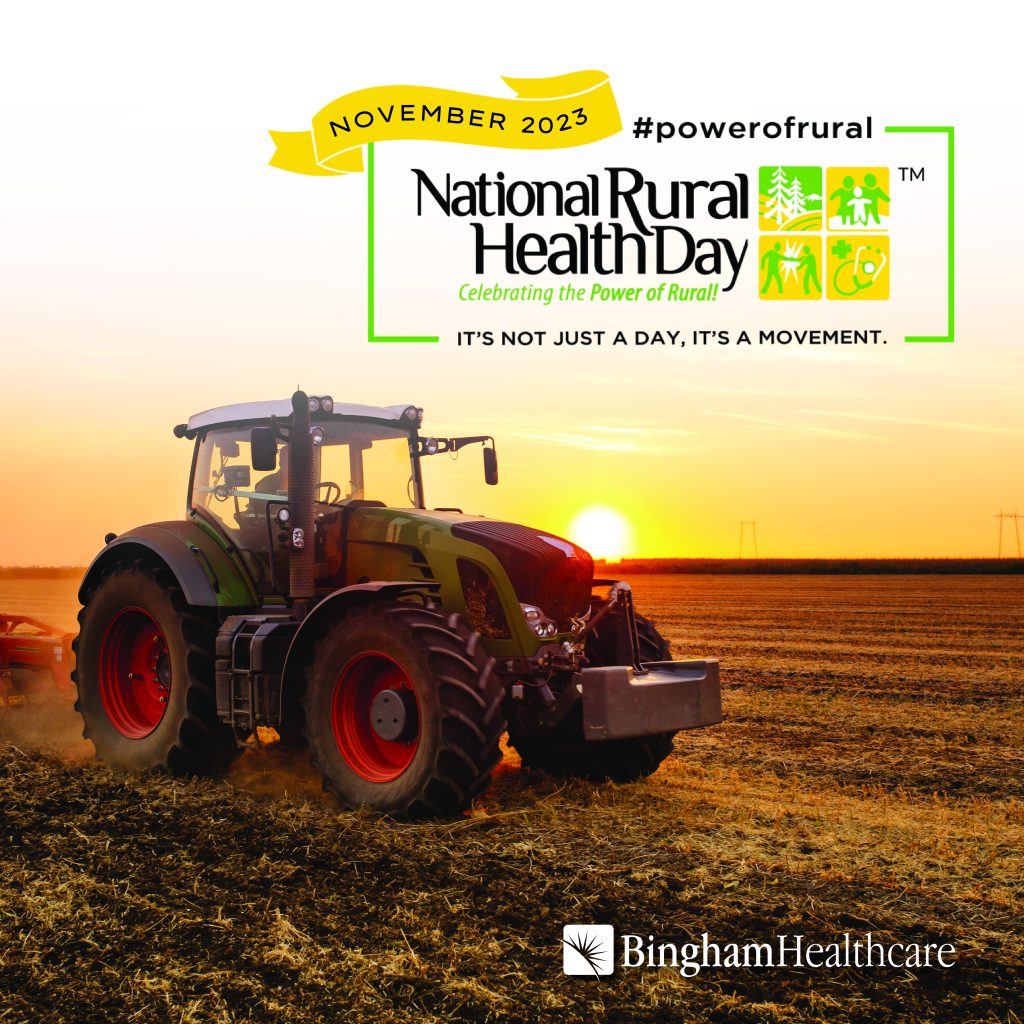 National Rural Health Day
Thursday, November 16, 2023, is National Rural Health Day. This special day was created in 2011 to highlight rural America and increase awareness of health-related issues in these areas. This provides Bingham Healthcare with the opportunity to highlight the unique healthcare issues facing many citizens in rural areas, but also allows us to "Celebrate the Power of Rural" and promote the good works being performed in our region.
Approximately 60 million people—one in five Americans—live in rural and frontier communities, similar to Blackfoot, Firth, and Shelley. As you know, America's rural communities are wonderful places to live, work, and visit. However, they are also communities that have unique healthcare needs.
Unfortunately, many rural communities throughout the U.S. face unique healthcare needs, such as lack of healthcare providers, an aging population suffering from a greater number of chronic conditions, and larger percentages of un- and underinsured citizens. Rural hospitals are also threatened with declining reimbursement rates and disproportionate funding levels that makes it challenging to serve their residents. Limited public transportation and geographic barriers must also be overcome in order to ensure that providers can adequately care for local needs.
Fortunately, this isn't the case in East Idaho.
As we celebrate National Rural Health Day tomorrow, may we all take time to appreciate how fortunate we are to have such well-established medical facilities to support our communities. At Bingham Healthcare, in particular, we are proud to be a rural healthcare provider that employs more than 1,000 people and has 160 world-class medical providers who provide innovative, affordable, and holistic primary care, which isn't the case in a lot of other rural communities throughout the U.S.
We are always introducing new and innovative programs, assembling the most qualified group of healthcare specialists from around the world, and expanding our extensive network of affiliates. Some of the members of Bingham Healthcare include Bingham Memorial Hospital, 1st Choice Urgent Care & Family Medicine, Idaho Physicians Clinic, Bingham Healthcare Family Medicine, Bingham Healthcare Orthopedics & Sports Medicine, Ammon Medical & Urgent Care, Artery & Vein Specialists of Idaho, Pocatello Women's Health Clinic, and Clifford, Clark & Walker Family Medicine.
As a regional leader in physician and hospital synergy, our diverse network of physicians, nurses, and support staff work hard every day of the year at all of our facilities to provide high-quality healthcare services in a caring and compassionate manner.
For the benefit of our patients, we have one of the most comprehensive robotics programs in the United States, rivaling technology you can only find at large academic centers in major metropolitan areas. We are one of the only hospitals in the country to have the Mazor X Robotic System for spine surgery, the da Vinci Surgical System for general surgeries, and the Mako Robotic-Arm Assisted Surgery System for technologically advanced knee and hip surgeries.
In addition, our weight-loss program—EM-POW-ER—is the No. 1 choice for patients throughout Eastern Idaho seeking surgical treatment for severe obesity. Since 2012, we have been the only accredited Bariatric Center of Excellence in Eastern Idaho. Last year, Regence Blue Shield of Idaho and Blue Cross recognized our program with a Blue Distinction® Center for Bariatric Surgery designation as part of the Blue Distinction Specialty Care program.
Further, Regence Blue Shield of Idaho and Blue Cross also recognized Bingham Healthcare with a Blue Distinction® Center for Maternity Care and Bingham Healthcare Orthopedics for higher quality knee and hip replacement surgeries, as part of the Blue Distinction Specialty Care program. Most recently, they also recognized Bingham Healthcare's Bariatric program as a Blue Distinction® Centers+ (Plus). Blue Distinction Centers are nationally designated healthcare facilities that show expertise in delivering improved patient safety and better health outcomes, based on objective measures that were developed with input from the medical community.
Traveling out-of-town to see a specialty physician can present many challenges, so we bring them to you. Just this past year, we brought specialists to the region in the areas of clinical psychology, ear, nose, & throat, gastroenterology, mental health, obstetrics & gynecology, pain management, primary care & urgent care, wellness & weight loss, and women's health.
With the combined expertise of Bingham Healthcare Orthopedics & Sports Medicine, they have the largest orthopedic and sports medicine program in Eastern Idaho. Our doctors have more than 60 years of combined experience caring for Division I Athletes and are the official team doctors of Idaho State University Athletics. Not to mention, our team of athletic trainers work at almost every high school in the region. In addition, our physicians treat people of all ages throughout the region, and are experts at diagnosing and treating arthritis and other painful disorders or injuries that involve the bones, joints, ligaments, muscles, and other supporting structures.
Dr. Travis R. Adams, a Harvard-trained, licensed and board-certified clinical psychologist is one of only three board-certified child psychologists in Idaho. And, we are fortunate to have Dr. David J. Bilstrom on our medical staff as the Director of the International Autoimmune Institute & Bingham Memorial Center for Functional Medicine. It is the first center west of the Mississippi River to bring the treatment of autoimmune diseases and functional medicine to a hospital in Blackfoot, ID. Dr. Bilstrom is quadruple board certified in Functional and Regenerative Medicine, Integrative Medicine, Physical Medicine and Rehabilitation, and Medical Acupuncture.
Further, the Bingham Healthcare Specialty Clinic in Idaho Falls, located just before Sunnyside and Hitt Rd. (25th Street) at 3302 Valencia Dr., continues to thrive. Considered a multispecialty healthcare clinic, this fully integrated physician office brings doctors from all types of specialties together, who work collaboratively to treat chronic conditions such as cardio and renal diseases, pulmonary diseases, degenerative arthritis and joint pain, and chronic pain management, to name only a few. It's much like the Mayo Clinic and it's quite extraordinary to offer this type of care in the region. Comprehensive service. Comprehensive care. All under one roof.
These are just a few examples of the things we are doing at Bingham Healthcare to ensure that all of our neighbors, friends, and family members in rural communities throughout our region have the healthcare that they need and deserve.
"As we continue to combine forward thinking and innovation with world-class physicians, the services they provide and the advanced procedures their doctors perform are part of what helps Idahoans live happier, healthier, and longer lives," said Jake Erickson, CEO of Bingham Healthcare. "And, with our increasing pool of talent, extensive network of affiliates, new programs, and commitment to patient care, we are uniquely positioned to benefit residents of the region for years to come."
So, join us as we honor America's heart and soul—our rural citizens and communities! We are so fortunate to be in a community of people like you—people who work hard and respect those around them.
Return to Articles