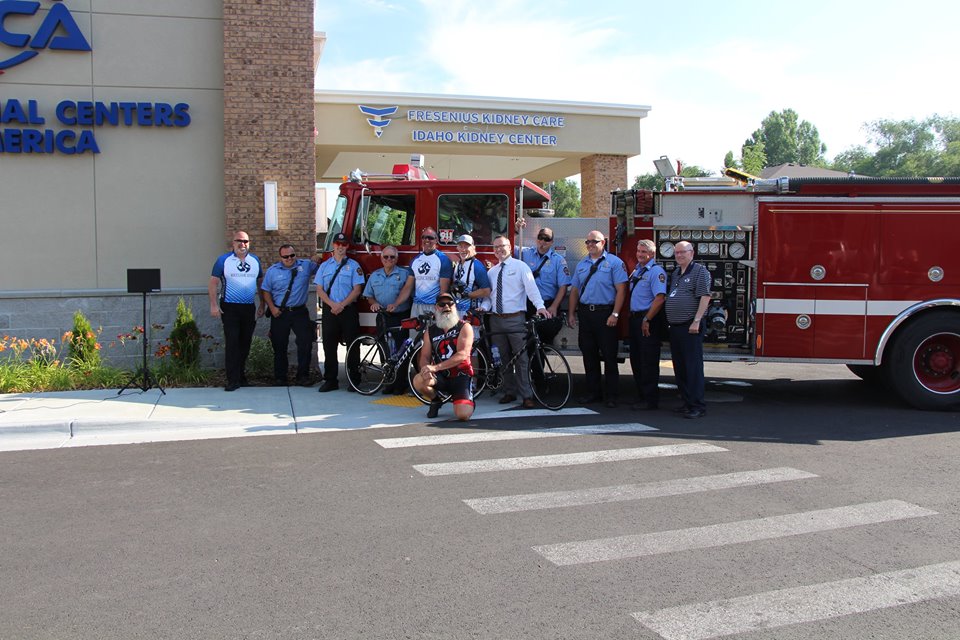 Man Receives 18th Heart Stent; Rides Bike to Utah Next Day
BLACKFOOT, ID – July 14, 2017 – On Thurs., July 13, Bob Quick (aka: Battery Operated 'Badass' Bob) had his seventeenth stent inserted at Bingham Memorial Hospital (BMH) by one of the region's leading Cardiologists, Dr. John E. Lassetter. On Friday—the day after surgery—Quick set off on his bicycle to return to Ogden, Utah, with Dr. Lassetter and a few friends.
Nothing can stop Quick. Throughout the past 13 years, he has endured two heart attacks and has had more than 23 heart procedures to keep him alive. He has advanced stages of coronary artery disease, a hereditary heart problem that caused him to have a massive heart attack in September 2004. Bob died and was dead for about three-and-one-half minutes before the paramedics managed to resuscitate him. Quick currently has 16 stents and a pacemaker/defibrillator, and he is the only male in his family to be living past 55 years old.
Quick gained national recognition in 2013 when he was the first man with his condition to ride a bike from the West Coast to the East Coast of the United States. His goal was to stop at fire stations throughout the country to thank firefighters. "If it wasn't for the firefighters in my hometown, I'd be dead," Quick said. "And so I decided that when I biked I'd stop at fire houses along the way and give them a hug. And tell 'em all thank you."
In 2013, Quick's million-dollar ride across the country raised money for five different charities: McKay-Dee Cardiology, the Wounded Warrior Project, the Roy City Fire Department, Primary Children's Hospital and Special Olympics Utah. In 2016, he then traveled 3,577 miles by bike from Cannon Beach, Oregon, to Montauk Point Lighthouse in New York.
About Bob Quick: http://www.bobquicksjourney.com/
Dr. John E. Lassetter is a leading cardiologist in Eastern Idaho. He is an owner and partner at Cardio Renal Centers of America (CRCA), a proud affiliate of Bingham Memorial Hospital. The first of its kind, CRCA's coordinated care model offers cardiology, nephrology, and interventional radiology services under one roof in a multi-disciplinary medical clinic that cares for patients suffering from heart and kidney disease. To learn more please watch the video below.
Return to Articles