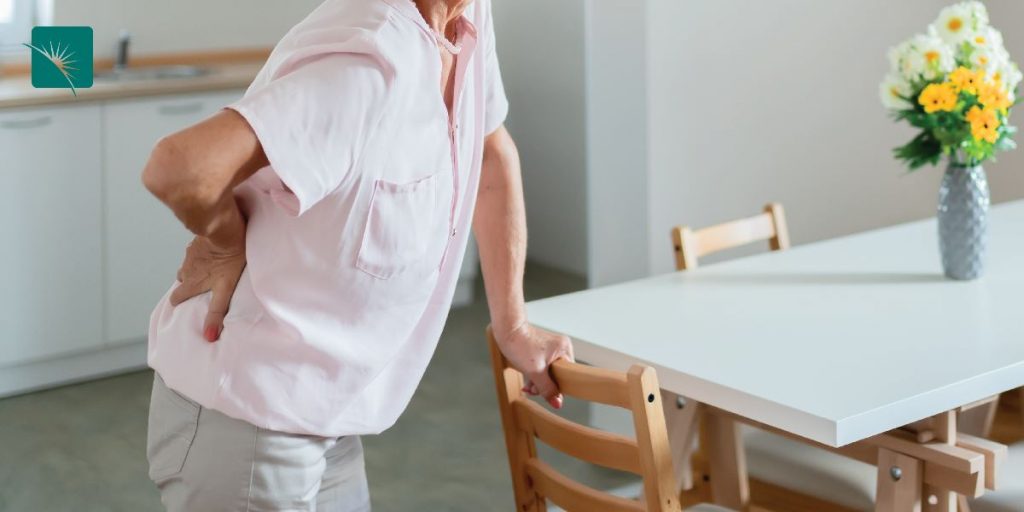 Local Woman Receives Life-Changing Treatment for Back Pain
Over 100 million Americans suffer from common chronic pain. It is the primary cause of adult disability in the U.S. and is a costly public health issue. The combined loss of productivity and healthcare costs exceeds $600 billion annually in the U.S.* Severe pain can significantly interfere with a person's quality of life and functionality, yet the condition is largely under-treated and misunderstood.
However, that's changing in Eastern Idaho with life-changing procedures being administered by Dr. Nathan Sneddon, pain management specialist at the Idaho Pain Group, a member of Bingham Healthcare.
For almost her entire life, Dalene Szymanski of Riverside, Idaho (just outside of Blackfoot), struggled with a variety of medical conditions—from a broken back at the age of five to several more accidents throughout her life, including two additional breaks to her back in 2000 and 2002. Those final two breaks to her back left her in debilitating pain for almost 20 years, especially through her lower back and hips. In addition to several surgeries, she was prescribed a variety of medications throughout the years, as well as physical therapy. As in Dalene's case, spinal injury patients can easily become addicted to and dependent on pain medication, muscle relaxants, and sleep aids.
"I got to a point where I didn't have any quality of life," Dalene said. "I felt like a shell of human being. I went from walking with a cane, to crutches, and was then wheelchair bound. I was told by my spinal specialist before moving to Idaho that I'd never walk again without aids or my spine being 'caged,' which I refused to accept."
In 2006, Dalene's rheumatoid arthritis doctor recommended they relocate to a drier climate, so her and her husband returned to their roots in Idaho. Refusing to give up, Dalene started working with doctors in Idaho and Logan, Utah, to help her get off of all prescription medications and transition to a more natural approach; a painful process that took three years.
"I wanted to be off all medications to try and figure out how to move forward in a healthier, more holistic way," she said. "So, I started working with massage therapists and acupuncturists, as well as doing daily water therapy. I complied with every recommendation for physical therapy and multiple needle therapies until I had exhausted all those approaches without any positive results."
Dalene's perseverance to stop taking her pain medications paid off and she found herself reversing the decline in her health and having success going from being in a wheelchair, back to using crutches, to using a cane, until she no longer required anything to help her walk again. Although Dalene gained her mobility back, she was not able to get a handle on the nerve pain she experienced constantly.
In 2016, Dalene and her husband moved to the Blackfoot area. In the interest of having closer local care, she started seeing Bingham Healthcare doctors for her various medical conditions. Dalene's primary care doctor felt that Bingham's spine specialist would be a good fit. After meeting with the spine surgeon, it was determined that a spine fusion was not a viable option for her back pain at this time, so he referred her to Bingham's very own, Dr. Nathan E. Sneddon, pain management specialist.
"When I first met with Dalene, she gave me two binders full of her medical records," Dr. Sneddon said. "I started working with her and ultimately determined she was a candidate for sacroiliac joint ablation."
A radiofrequency ablation (RFA) of the sacroiliac joint (SI joint) is a procedure that uses heat to cauterize and ultimately destroy nerves. These nerves carry pain signals from the injured sacroiliac joint to the brain. RFA of the SI joint may be recommended for those patients who have received short term pain relief after injecting the SI joint with numbing medicine but may have experienced unsuccessful long-term results.
"I am pleased to be able to offer my patients a sacroiliac joint ablation with chronic low back and leg pain where the sacroiliac joint is the culprit," Dr. Sneddon said. "Patients suffering debilitating pain, like Dalene, need alternatives to opioids. This procedure is clinically proven to offer substantial pain relief."
"Dr. Sneddon was the very the first doctor that used a different diagnostic approach that helped to isolate the actual nerve injury area," Dalene said. "He was very clear in explaining what he was able to do and what he was going to do. I had been searching for a solution that would work with the therapies I already knew were successful for me. I didn't want to have another set-back from yet another procedure that may or may not work. He gave me hope that I hadn't had in a long time. The end result is that he was able to put these troublesome nerves in my spine to sleep to eliminate the pain."
After 12-plus years of unrelenting pain and nights of interrupted sleep from these specific damaged nerves, Dalene is now pain free in this area and can sleep through the night.
"I have no illusions, though," Dalene said. "I know that nerves can become active again, can reroute themselves, and can do any number of things in the rebuilding process. I also know that there is a great advantage in being able to shut off pain signals to the brain to allow the body sufficient time to see if the signal is even needed anymore. I've had experience with this process myself. The body needs the right tools to heal and having the ability to get away from relenting pain for even a small season is amazing."
Most importantly, Dalene wants people to know that they don't have to be addicted to or dependent on pain medications.
"Pain medication actually causes more pain and problems in many cases," Dalene said. "There are other alternatives out there and I'm living proof that you can greatly reduce your pain—or even be pain free without having to live on pain medications. Dr. Sneddon and the other doctors at Bingham really do understand about working together to create a treatment plan that works for the patient. Does it take work? Yes, it does, it takes a lot of hard work and determination, too. I swim every day—it's a fight to continually get better. The doctors at Bingham understood the limitations I brought to the table (an inability to take most medications, lots of past broken bones, lots of surgeries, and scar tissue issues) and they worked with me to find a solution that would work. Bingham has an amazing team of specialists and in my case they all came to the same solution and coordinated very well with one another."
NATHAN E. SNEDDON, MD, IS HERE FOR YOU, TOO!
Dr. Sneddon is passionate about helping those who come under his care and successfully managing their pain. His years of surgical training supplement his specialized pain management training and provide him a unique perspective when treating patients and performing interventional procedures. This includes specifically and always addressing the source and proper diagnosis of pain and thereby treating the source of pain instead of just the symptom of pain. He views his patients in a holistic manner and therefore cares for them comprehensively using interventional techniques, medications, and therapy.
To schedule a consultation with Dr. Sneddon in his Idaho Falls office, please call (208) 524-9400 or in Blackfoot at (208) 782-3701.
For more information on all of the pain management services he offers, please visit www.BinghamMemorial.org/Find-a-Doctor.
*Relieving Pain in America: A Blueprint for Transforming Prevention, Care, Education, and Research.  Inst. of Medicine of the National Academies, 2011.
Our content is reviewed regularly and is updated when new and relevant evidence is made available. This information is neither intended nor implied to be a substitute for professional medical advice. Always seek the advice of your physician or other qualified health provider prior to starting any new treatment or with questions regarding a medical condition.
Return to Articles