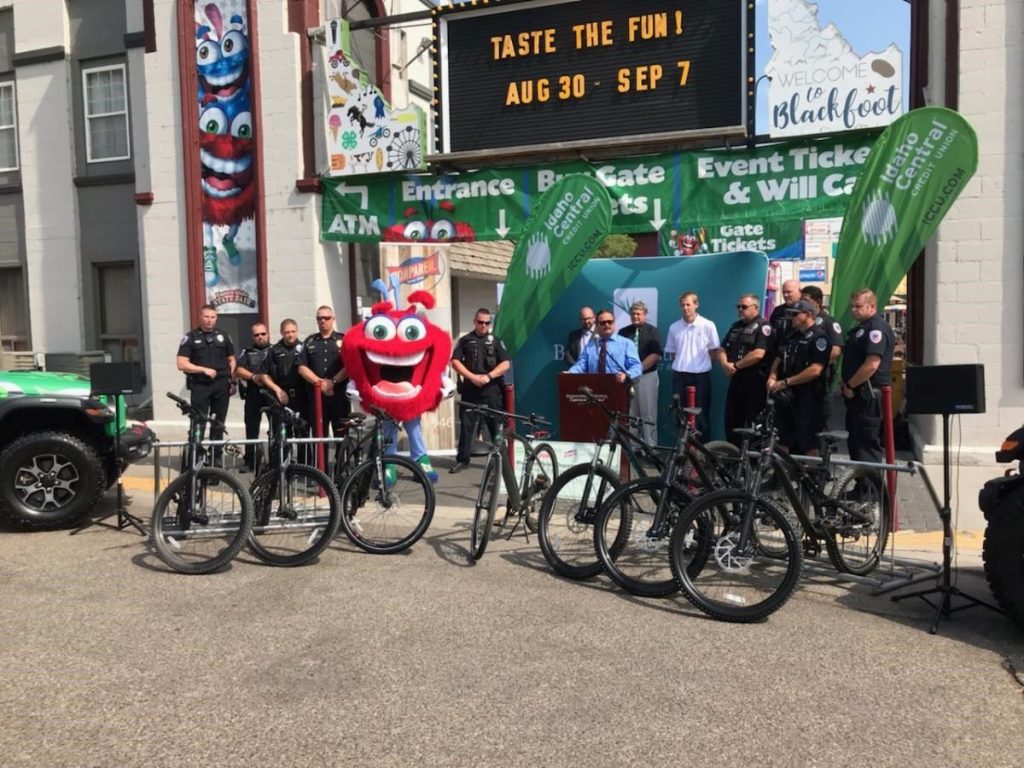 Local Businesses Donated Money for the Purchase of Bikes for the Blackfoot Police Department
BLACKFOOT, ID – September 3, 2019 – Today, a bike and check presentation was held at the main gate of the Eastern Idaho State Fair to present the local Blackfoot Police Department with eight new bikes for their bike patrol program. Thanks to the generous donations of several local businesses, the Blackfoot Police Department was presented with this exciting upgrade to their bicycle fleet.
To express their gratitude for the important work our bike patrol officers perform every day, several local businesses joined forces to donate more than $15,000 towards the purchase of eight brand-new specialized bicycles. Idaho Central Credit Union, Bingham Healthcare, Nopareil-Idaho Potato Packers Corp., and Spudnik all generously contributed to the Blackfoot Police Department. In addition, Bill's Bike Shop & Run supplied the bikes and proper safety equipment for the officers.
The mascot, HAPPY, from the State Fair was attendance at the presentation, as well as the Chief of the Blackfoot Police Department, Scott Gay, and several Blackfoot police officers.
"Having new bikes is extremely important for the safety and security of our officers," says Ray Jewett, Blackfoot police officer in charge of the bike patrol program. "In addition, enhancing our bike patrol program will allow our bike patrol officers to more thoroughly explore the Jensen's Grove area (and bike/walking paths) and the Eastern Idaho State Fair. Bikes allow our officers to be more visible to the public and explore areas that police cars are unable to get to—keeping a watchful eye for suspicious activity."
The Blackfoot Police Department is still looking to expand their bicycle fleet. If you are interested in contributing, donations can be made to the Blackfoot Police Department.
Return to Articles