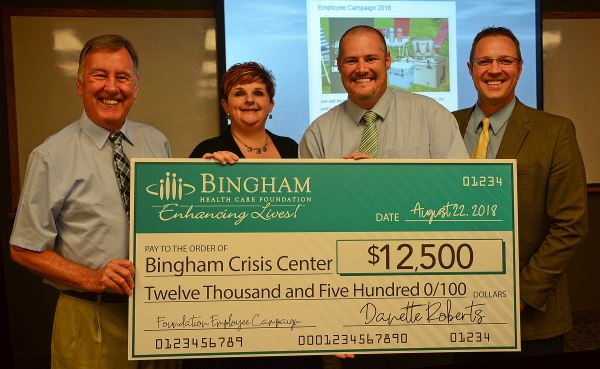 Local Blackfoot Charities Receive $25,000 in Donations
BLACKFOOT, ID – August 23, 2018 – Yesterday, representatives from Bingham Memorial Hospital (BMH) and the Bingham Health Care Foundation donated $25,000 to three, local Blackfoot charities. Team members from the Bingham Health Care Foundation; Board Chairman, Norm Stanley; and, CEO of BMH, Jake Erickson, hosted representatives from the following three charities for lunch, followed by a check presentation.
Bingham Crisis Center received a donation of $12,500. They provide advocacy, counseling, shelter, et cetera, at no charge to those affected by violence, abuse, and trauma.
Community Dinner Table, Inc. (CDT) received a donation of $7,500. They are a non-profit organization comprised of faith groups and friends working together to reduce hunger in Bingham County.
Dawn Enterprises, Inc. received a donation of $5,000. Their mission is to assist individuals of Southeastern Idaho with mental, physical or social disabilities in achieving independence through employment training, skill training, social development, or living enhancements up to each individual's maximum capability.
Bingham Memorial employees donated all of the funds earlier this year during an employee fundraiser campaign. They also had the opportunity to vote for the charity to which they wanted the funds allocated. The final consensus of the employee vote determined the amount each charity received.
"Bingham Memorial employees responded in such a heartfelt and overwhelming way, and we raised a record setting amount," said Director of the Foundation, Danette Roberts. "We are very proud to support these charities. Thank you to everyone involved for making this an incredible year, and for helping make a real difference in the lives of so many."
Return to Articles