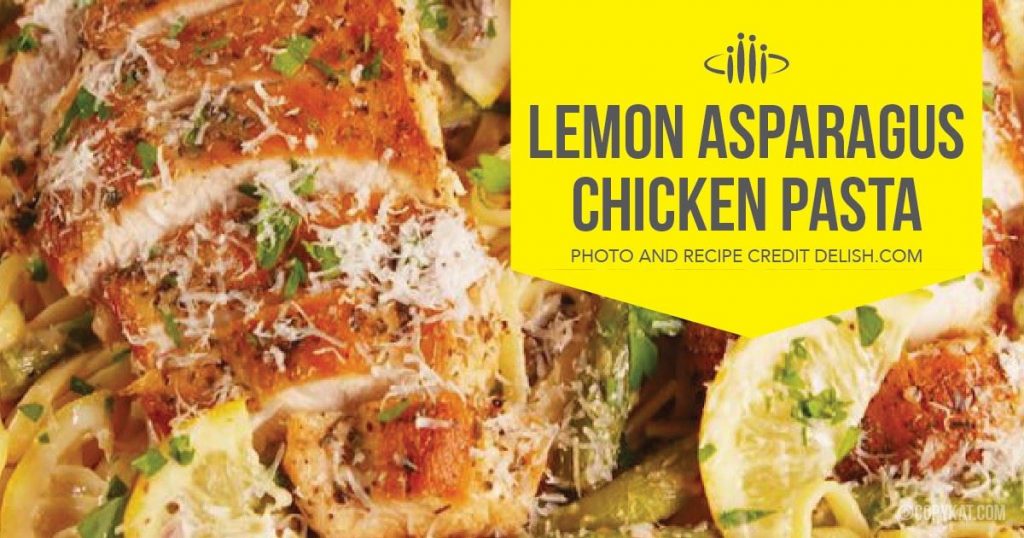 Lemon Asparagus Chicken Pasta
Total Time:  30 minutes
Prep:  30 Minutes
Cook: 30 Minutes
Level:  Easy
Makes:  4 Servings
Author: CHELSEA LUPKIN (delish.com)
INGREDIENTS
• Kosher Salt
• 1lb. linguine or spaghetti
• 1 tbsp. extra-virgin olive oil
• 1 lb. boneless skinless chicken breasts
• Freshly ground black pepper
• 2 tsp. Italian Seasoning
• 2 tbsp. butter
• 1 small red onion, chopped
• 1 lb. asparagus, stalks trimeed and cut into thirds
• 3/4 c. heavy cream
• 1/2 c. low-sodium chicken broth
• Juice of 1 lemon
• 3 cloves garlic, minced
• 3/4 c. shredded mozzerella
• 1/2 c. freshly grated parmesan, plus more for garnish
• 1 lemon, sliced into half moons
• Freshly chopped parsley, for garnish
DIRECTIONS
1. In a large pot of salted boiling water, cook pasta according to package directions until al dente. Drain and return to pot.
2. In a skillet over medium heat, heat olive oil. Add chicken and season with salt, pepper, and Italian seasoning. Cook until golden and no longer pink, 8 minutes per side. Transfer to a plate to let rest, then thinly slice.
3. To skillet, melth butter over medium heat. Add red onion and asparagus and season with salth and pper. Cook until tender, 5 mintues, then add heavy cream, chicken broth, lemon juice, and garlic and simmer 5 mintues.
4.  Stir in cheeses and let cook until melty, then add lemon slices and cooked linguine.
5.  Top with sliced chicken and garnish with more parmesan and parsley.
Return to Articles