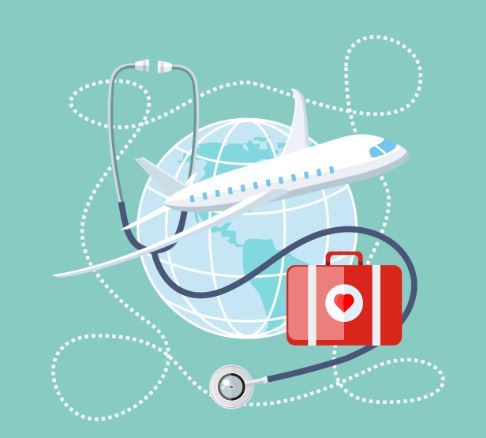 Healthy Tips for Safe Travels
"A few tips to help you and your family stay healthy while traveling."
With the summer in full swing, many people will still be heading out of town for vacation. Depending on where you're traveling to, no matter what time of the year, a little extra planning can go a long way to keep you and your family healthy when you're away from home.
BEFORE YOU LEAVE
Find out what healthcare facilities and pharmacies will be at your destination. You should ask your doctor for a hard copy of your prescriptions and carry those with you. Also, write down your medications and dosages and carry that list in your wallet and your suitcase.
DURING YOUR TRIP
Keep moving. Whether you're traveling by train, plane, or automobile, help avoid circulatory problems in your legs by standing up and walking for several minutes every hour or so.
Stay hydrated. Drink plenty of liquids. Aim to drink about half your body weight in ounces of water each day. If you weigh 150 pounds, drink 75 ounces of fluid. Keep in mind that alcohol and caffeine increase dehydration, so be sure to compensate. Most cases of dehydration can be cured by drinking more fluids and resting. If you have extreme thirst, dizziness or confusion, or you aren't urinating, seek immediate medical attention.
Eat well. Bring food with you as a healthy choice and a great way to save money. If you're traveling by car, pack a cooler. Frozen bottles of water can be ice packs. Take sandwiches, fruit and nut bars, trail mix, and cut up veggies—which help with digestion, energy levels, and strengthen the immune system.
Mosquitoes. Bring plenty of liquid mosquito repellent with at least 30 percent of the active ingredient DEET. Wear long sleeves and long pants. Sleep in a bed protected by mosquito netting, if needed.
Diarrhea. Loose stools that are often accompanied by gas and bloating, diarrhea is frequently associated with stomach viruses or bacterial infections. The most common cause of diarrhea can be treated with over-the-counter, "upset-stomach" products. Buy these before you leave. However, be cautious in using these products early in your illness as they can stop the normal body response and prolong your recuperation. Find reliable medical help if you have severe abdominal cramps, severe abdominal pain, high fever, blood or mucus in your stool, and/or severe dehydration.
The most important thing about traveling, though, is to have fun and be spontaneous—it's the best part of travel! And remember, the physicians at Bingham Memorial Hospital and 1st Choice Urgent Care & Family Medicine are always here for you and your family. To find a doctor near you, call (208) 785-4100 or go to www.BinghamMemorial.org/Find-A-Physician
Return to Articles