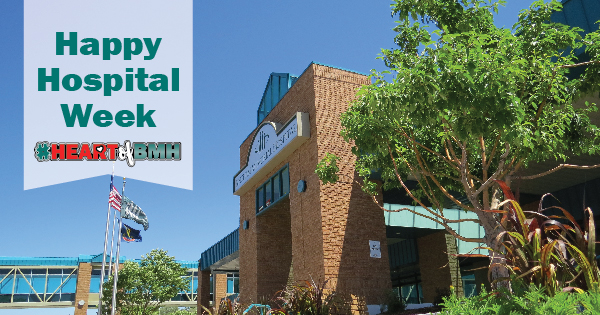 Happy National Hospital Week!
"All of our employees are the #HEARTofBMH. I truly believe that regardless of where they work in the organization, they are a caregiver who plays an important role in the healing miracles that occur each day."
Bingham Memorial Hospital (BMH) joins with thousands of hospitals around the country to honor their employees by celebrating National Hospital Week—May 8 to 12. This year's theme is: The Healing Heart of Healthcare.
"I am so proud of every single one of our employees and physicians and the phenomenal work you do to deliver such high quality and compassionate healthcare," says Jeff Daniels, CEO of BMH. "I hope that you know that you are a part of something great, something bigger than yourself. You make a profound impact on our community and throughout Eastern Idaho. What you do on a daily basis saves lives, decreases suffering, and calms weary hearts. Every single one of you are the #HEARTofBMH, and I am so proud to work alongside you."
A hospital is more than a place where people go to heal, though. It is an integral part of the community that fosters health and represents hope. From providing treatment and comfort to the sick to welcoming new life into the world, hospitals are central to a healthy and happy community. We hope that we continue to make you and your family members proud of BMH and all that we stand for.
Whether you're a hospital patient or you've visited one of our physician offices, we hope you know how much we have appreciated the opportunity to serve you. We fully understand, though, that in many situations a visit to a hospital can bring with it heightened levels of anxiety and uncertainty. We are extremely sensitive to this and we're glad to be here for you when it comes to making important decisions about your health and well-being. As we celebrate this week, thank you again for your support and patronage as we prepare to embark on another year of providing exquisite healthcare to our friends and neighbors in Eastern Idaho.
It's no coincidence that Hospital Week also coincides with the anniversary of the birth of Florence Nightingale. She would always go the extra mile when it came to taking care of her patients. She was known as "The Lady with the Lamp" as she would make extra rounds during the night with her lantern, checking on her patients, minimizing discomfort, and offering care and compassion to all who called out her name. To this day, she is broadly known and revered as the pioneer of modern nursing.
"All of our employees are the #HEARTofBMH. I truly believe that regardless of where they work in the organization, they are a caregiver who plays an important role in the healing miracles that occur each day," says Mr. Daniels. "Their contributions help to foster health and healing. They deliver hope to our patients and guests and make such a significant impact on how smoothly our facilities operate."
Return to Articles