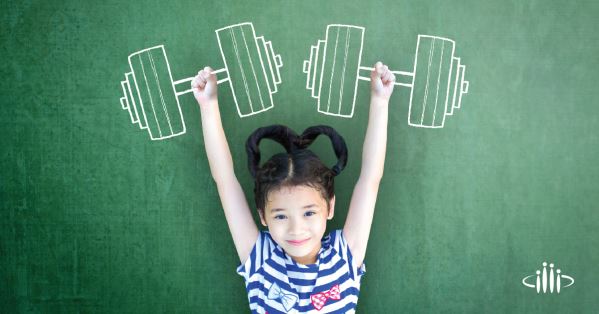 Growing Fit Kids
Want to help your children grow up strong and healthy? Being active as a family is just part of the equation. You also have to teach them to balance the energy they take in through food with the energy needed to keep their bodies going and perform daily activities.
Being fit is a way of saying a person eats well, gets a lot of physical activity, and has a healthy weight.
Kids respond better to lifestyle changes that promote wellness when you explain it in positive terms. Instead of focusing on negative messages about television or unhealthy snacks, encourage your children to do the following three things to set them on a positive path to wellness.
Be Active
For kids, activity is about play, not work. Look for fun ways to move together as a family. Blow up a balloon and see how long you can keep it in the air. Or put a new spin on house-hold chores. Turn on some fun music on a Saturday morning and have an aerobic-paced family cleanup time.
For more fun activities from Bingham Memorial's Family Medicine Specialists, especially during the winter, click here.
Drink Smart
Serve kids water or low-fat milk at meals instead of soda or sugary beverages. Sweetened drinks sneak in empty calories that can sabotage their energy balance. You can always add a little juice to their water to change the color and flavor.
Become Food Adventurers
Surely, your kids have favorite foods, but the best way to ensure they get the nutrition their bodies need is to encourage them to branch out—especially when it comes to fruits and vegetables. If your children love dips, try serving fruit slices with yogurt or veggie slices with health dressing. Or veggie pizzas. Get them even more involved by letting them pick out a new fruit or vegetable to try.
Want to start with a subtler approach? You can include pureed vegetables in soups or stews. And remember, bananas and berries make great cereal toppers.
Keep Tabs on Their Health
Yearly checkups with a healthcare professional are the perfect way to make sure your children are on track for long-term wellness. We have Bingham Memorial Family Medicine Specialists located throughout Eastern Idaho—Blackfoot, Idaho Falls, Pocatello, and Shelley, and they are always here for you and your family. To find a family doctor near you, please click here.
https://www.binghamhealthcare.org/physician-specialties/family-medicine
Our content is reviewed regularly and is updated when new and relevant evidence is made available. This information is neither intended nor implied to be a substitute for professional medical advice. Always seek the advice of your physician or other qualified health provider prior to starting any new treatment or with questions regarding a medical condition.
Return to Articles