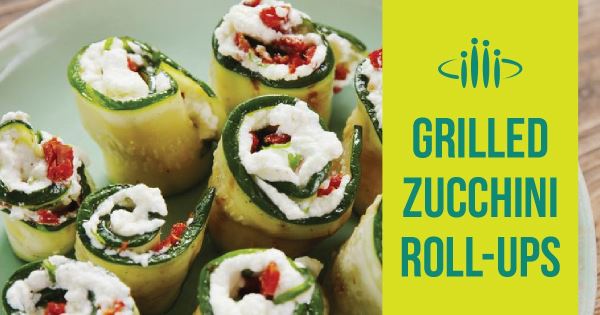 Grilled Zucchini Roll-Ups
Stuffed with ricotta, sundried tomatoes, and basil, these healthy zucchini rolls are a light—and low-carb—summer app.
Total Time:  30 minutes
Prep:  15 Minutes
Cook: 6 Minutes
Level:  Easy
Makes:  4 Servings
Author:  Lyndsay Funston (delish.com)
INGREDIENTS
• 3 large zucchini, sliced into 1/4″-thick slices
• 3 tbsp. extra-virgin olive oil, divided
• Kosher salt
• Freshly ground black pepper
• 1 c. ricotta
• Pinch of crushed red pepper flakes
• 1/3 c. chopped sun-dried tomatoes
• 1 tbsp. freshly chopped basil
DIRECTIONS
1. Heat grill to high.
2. Toss zucchini with 2 tbsp olive oil and season with salt and pepper.
3. Grill until charred and tender, 3 minutes per side.
4.  Stir together ricotta, remaining tablespoon olive oil, and crushed red peppers and season with salt and pepper. Spread a layer of ricotta on zucchni and sprinkle with sun-dried tomatoes and basil.
5.  Tightly roll up and serve.
Return to Articles