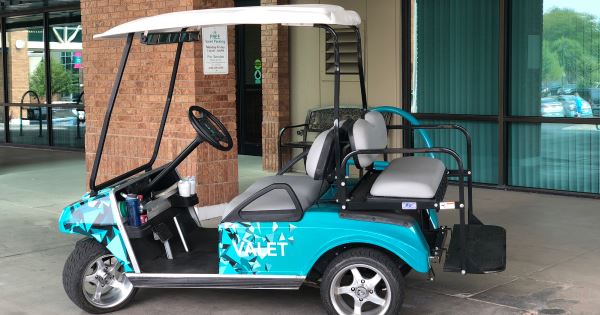 FREE Valet Parking Services Return to BMH
BLACKFOOT, ID – August 21, 2018 – We are pleased to announce that the free valet parking service at Bingham Memorial Hospital has returned. This service is once again available for all patients and visitors at Bingham Memorial—Monday through Friday from 7:30 a.m. until 4 p.m. Simply pull up to the main entrance of the hospital (98 Poplar Street) and check in with the folks at the front desk. Joseph, the valet parking attendant at Bingham Memorial, will then be notified. Once he arrives, the driver will receive a ticket and the valet phone number. Joseph parks all cars and trucks in a safe and secure location.
Joseph also has a golf cart, so he gladly takes patients or guests wherever they need to go on Bingham Memorial's campus. He often drives people to the Medical Office Plaza and the CRCA building (across the street from the main hospital) as well as the Bingham Specialty Plaza and the Skilled Nursing and Rehabilitation Center. When you're ready to be picked up from your destination, just call or text Joseph. He'll promptly pick you up and drive you back to your car. It's as simple as that.
"We're happy to provide this free service for our patients and guests so they don't have to spend time looking for a parking space or walking long distances," said Michael J. Harris, patient experience coordinator at Bingham Memorial. "Not only is this a safe, secure, and convenient option, but it's a positive solution to minimize traffic and parking congestion."
When people visit the hospital, they may not always be feeling at their best. This service is convenient, especially during bad weather and for patients and guests who are unable to walk long distances. In addition, it's particularly useful for the safety of patients coming in for surgery or leaving the hospital after surgery.
"People are so grateful this service has returned to Bingham Memorial," said Joseph, valet parking attendant. "I am so happy to be a part of this important service that we're offering to patients and the community."
Recently, a frequent visitor to Bingham Memorial, Peggy O., called the hospital and had this to say: "I am so grateful for the valet service at Bingham Memorial. Thank you for having it! I struggle with osteoarthritis and have had surgeries on both knees, hips, shoulders, and my hands. Without the valet service, it would be impossible for me to go to physical therapy. The driver, Joseph, is so courteous and kind. He even helps me into the hospital if I'm not having a good day. It's an especially good service for a lot of older people who visit the hospital in case they want to avoid having to use any stairs."
In addition, some people like to park their own cars. If that's the case, you can simply call Joseph from your parking spot and he'll drive to you, pick you up, and take you to where you need to go. For more information about Bingham Memorial's free valet service, please call or text Joseph at (208) 680-6066.
Return to Articles