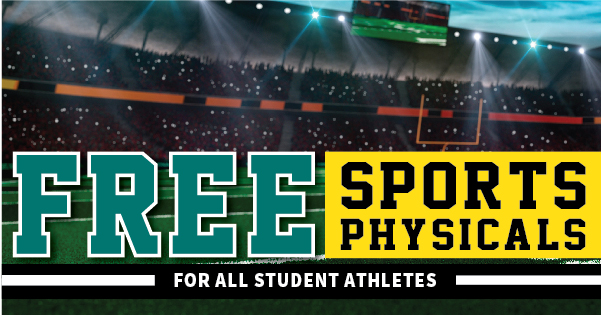 FREE Sports Physicals for all Student Athletes
Our providers are offering FREE sports physicals.
With all the costs associated with summer activities and back-to-school preparation, our team of leading primary-care doctors would like to lend a helping hand. As a non-profit organization, we are dedicated to giving back to the communities we serve. One of the ways we do this is by providing FREE sports physicals to all student athletes throughout Eastern Idaho.
WHY IS AN ANNUAL PHYSICAL SO IMPORTANT FOR YOUR STUDENT ATHLETE?
A sports physical ensures a student athlete is healthy and ready to safely participate in their chosen sport. As any parent of a seasoned student athlete knows, a sports physical is not only necessary but is required in order for their son or daughter to participate in school sports programs. Most importantly, regular examinations afford the doctor the opportunity to discover any health-related risks or preexisting injuries before your child participates in rigorous sporting activities.
Parents must accompany their children to the doctor so they can ask questions or voice concerns about their children's health and development. The doctor will also talk to parents about developmental and safety issues for the overall well-being of your child.
During the sports physical, the doctor will perform a complete physical examination and check your child's blood pressure. The doctor will weigh and measure your child to make sure he or she is progressing along a normal pattern of growth.
Your student athlete may also be screened for anemia, diabetes, scoliosis, and other risks. These procedures are normal and help provide the physician with a "health timeline" should an illness arise in the future. Overall, checkups like these provide you as a parent with peace of mind and an opportunity to ask questions about the development and overall health of your child.
SCHEDULE A FREE SPORTS PHYSICAL
Our primary-care doctors offer free sports physicals to students of all ages in Blackfoot, Idaho Falls, Pocatello, and Shelley. Due to the popularity of this program, please call (208) 785-4100 to schedule an appointment with one of our healthcare providers at a location convenient for you.
Visit: BinghamMemorial.org/Family-Medicine
BUMPS & BRUISES CLINIC
In addition, Bingham Healthcare Orthopedics & Sports Medicine team will be offering a free "Bumps and Bruises" clinic every Saturday morning from Aug. 27 to Oct. 29, 2022. Some of the region's most experienced orthopedic and sports medicine specialists will be on hand to treat any student athlete suffering from a sports-related injury.
The clinic offers free evaluations (X-rays are included!) and are held every Saturday from 9:00 am until 10:00 am.
BACK-TO-SCHOOL IMMUNIZATIONS
Bingham Healthcare Family Medicine makes getting your child up-to-date on their immunizations easy. Our primary care providers can look up your child's immunization record for free on Idaho's Immunization Reminder Information System (IRIS*) and let you know what immunizations they need to be current and ready for school. Then you can get the needed shots right then or schedule a time that is convenient for you. (Try to bring in any immunization records you have when visiting a doctor.)
Learn more about the importance of having your child's immunizations updated.
*IRIS is a secure Idaho immunization registry. If you are a new resident to Idaho and have not transferred your child's immunization record to IRIS, the record may be incomplete. If you have a physical print out of your child's immunization record, our primary care providers can update IRIS for you.
Our content is reviewed regularly and is updated when new and relevant evidence is made available. This information is neither intended nor implied to be a substitute for professional medical advice. Always seek the advice of your physician or other qualified health provider prior to starting any new treatment or with questions regarding a medical condition.
Return to Articles