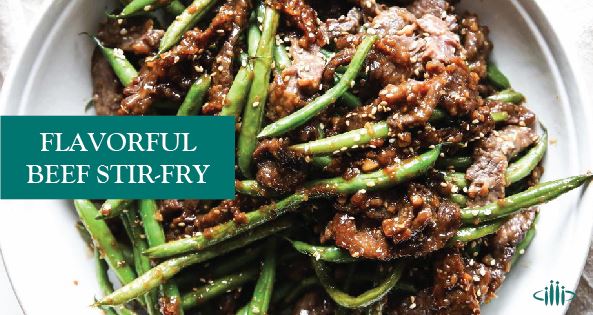 Flavorful Beef Stir Fry
Making this Chinese-style dish with simple yet bold ingredients is easier than you think. This beef stir fry features garlic, ginger, and soy flavors, and takes less than 30 minutes to make. Serve with rice or noodles.
TOTAL TIME: 0:15
PREP: 0:05
LEVEL: EASY
SERVES: 4
INGREDIENTS
• 1 lb. skirt steak, thinly sliced into 1/4″ strips
• kosher salt
• Freshly ground black pepper
• 3 tbsp. corn starch canola oil
• 1 lb. green beans, trimmed
• 3 garlic cloves, minced
• 3 piece of ginger, peeled and grated
• 1/4 c. soy sauce
• 1 tbsp. rice wine vinegar
• 3 tbsp. sugar
• 2 scallions, chopped
• 1 tbsp. sesame seeds
DIRECTIONS
Place beef in a large mixing bowl and pat dry with a paper towels. Season with salt and black pepper, toss with cornstarch until well coated, and set a side. In a large skillet over medium-high heat, drizzle 1 tsp oil and cook green beans 1 minute. Add 2 tbsp water and cover with a lid to steam for 1 minute more. Transfer green beans to a plate and discard any excess water. Return skillet to high heat and add 1 tbsp oil. When oil is almost smoking, add beef. Stir fry 2-3 minutes until beef is almost cooked through. Reduce to medium heat and add garlic, ginger, soy sauce,vinegar, and sugar. Stir quickly to coat the beef. Add back greenbeans, scallions, and sesame seeds. Serve immediately.
Return to Articles