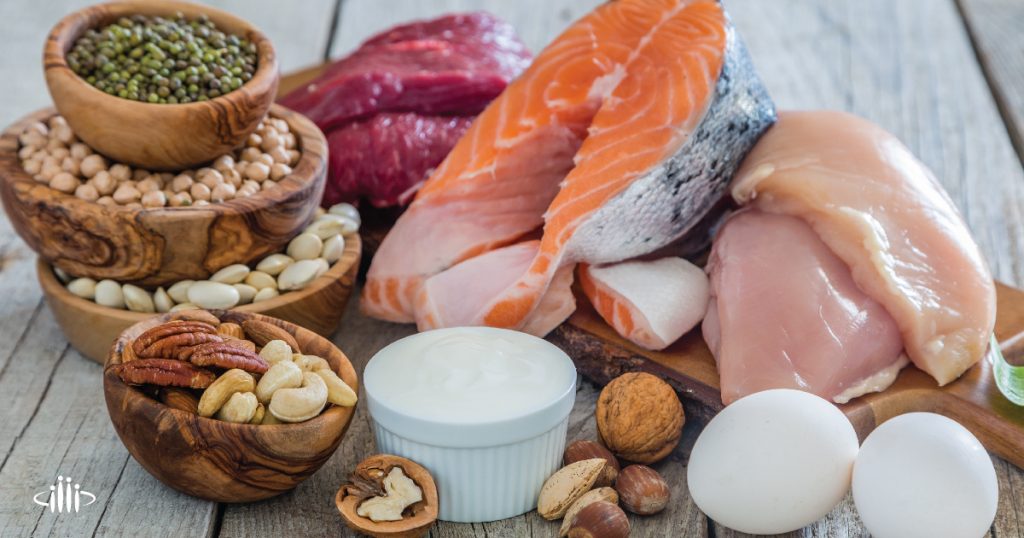 Eat for Your Bones
Think beyond dairy to get the calcium your body needs.
For generations, we've been told that building strong bones was as easy as drinking a few glasses of milk each day. However, recent research suggests that milk might not be as effective at preventing fractures as we once thought.
Tammy Fouse, DO, general surgeon and fellowship-trained bariatric surgeon at Bingham Memorial's Weight Loss Center, says these recommendations haven't changed.
"The majority of the science," Dr. Fouse says, "suggests that people should be consuming more dairy—not less—to get key nutrients like calcium and vitamin D that support bone and overall health."
However, some might not be able to consume enough dairy to hit the recommended targets. Here are some nondairy sources to try:
Fortified nut milks and orange juice. These drinks might contain as much—or more—calcium as milk.
Green, leafy vegetables and fruits. Kale, collard greens, broccoli and bok choy are excellent options for calcium and magnesium, a key nutrient for bone strength and density. "In order to add more nutrition to each serving, I suggest cooking them down in a light olive oil," Dr. Fouse adds. "And don't forget vegetables such as carrots and potatoes. and fruits such as figs and oranges."
Fortified breads and cereals. These are fortified with calcium and vitamin D, which helps absorb calcium.
Fish canned with bones. Canned salmon and sardines are protein-rich sources for calcium and vitamin D.
Beans. "For good sources of calcium and magnesium, add more French beans and chick peas to your diet," Dr. Fouse says.
Nuts and seeds. Almonds and sesame seeds are also great for boosting your calcium and magnesium intake, as well as dried pumpkin seeds, cashews, and pistachios.
See if your bones pass the test with a Bone Density (DXA/DEXA) Scan
Bone density scanning, also called dual-energy X-ray absorptiometry (DXA) or bone densitometry, is a painless and easy scan that measures bone density, with extremely low levels of radiation exposure. The DXA scan is typically used to diagnose osteoporosis and to determine a patient's risk for developing fractures.
A DXA scan takes X-rays of bones, most often performed on bones that are likely to break because of osteoporosis, including the lower spine, the narrow neck of the thighbone where it connects to the hip, and bones in the wrist and forearm.
This bone density test helps to identify the decrease in bone density preferably before an individual breaks a bone. The higher the bone mineral content is, the denser the bone. And the denser the bone, the stronger and less likely it is to break.
Who should get a bone density test?
The National Osteoporosis Foundation recommends bone density testing for:
Women age 65 or older
Men age 70 or older
Someone who has broken a bone after age 50, non-traumatic
Women of menopausal age with risk factors
Postmenopausal women under age 65 with risk factors
Men age 50 to 69 with risk factors
Someone with long-term use of certain medications, such as thyroid meds, prednisone, or proton-pump inhibitors used for acid reflux, like Prilosec (omeprazole)
While there are other criteria, such as family history and having diabetes, that puts people at greater risk for having osteoporosis, these are some of the general testing requirements. Osteoporosis is treatable and can be prevented. If you or a loved one meets one of these criteria for testing, and have yet to be tested for osteoporosis, please speak to your primary care provider and ask them if a Bone Density (DXA/DEXA) Scan would be right for you. If so, they can refer you to Dr. Angelo Capricchione.
Need Help with a Bone Density (DXA/DEXA) Scan?
If you think you're at risk or need a screening, please contact Dr. Capricchione. He is always welcoming new patients in Blackfoot and Pocatello.
Blackfoot
Bingham Memorial Medical Plaza
98 Poplar St., 2nd Floor
P: (208) 785-3865
Pocatello
Bingham Memorial Diabetes & Osteoporosis Center
2302 E. Terry St., Ste. A
P: (208) 235-591
EM-POW-ER Weight Loss Program
If you've been on a weight-loss journey for a while and are unhappy with your progress, Bingham Healthcare's EM-POW-ER Weight Loss program might be right for you. There are several new components to the program, including nutrition education. People in the program meet with a specialized dietitian to review food choices and learn how to incorporate those choices into a healthy living style.
For more information, please call (208) 782-3993, or sign up for a free seminar at www.IdahoEmpower.com. Seminars are held throughout East Idaho every month.
Our content is reviewed regularly and is updated when new and relevant evidence is made available. This information is neither intended nor implied to be a substitute for professional medical advice. Always seek the advice of your physician or other qualified health provider prior to starting any new treatment or with questions regarding a medical condition.
Return to Articles