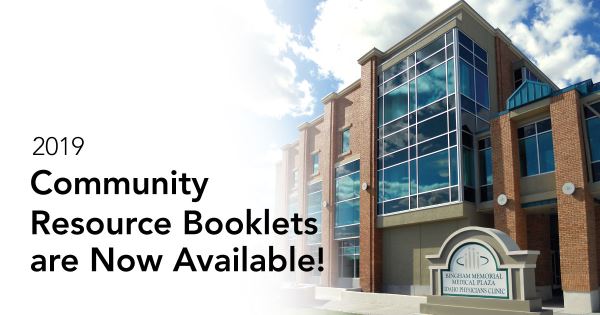 Community Resource Booklets Now Available
BLACKFOOT, ID – March 28, 2019 – At Bingham Memorial Hospital (BMH), a proud member of Bingham Healthcare, they are committed to doing everything they can to improve the health and well-being of the community. In an effort to expand the support given to patients, BMH has compiled a Community Resource Booklet. This reference book highlights many of the agencies that provide health and human services in the community.
Amy Wuest, PhD, manager of grants and continuing medical education at BMH, and Karisa Brown, care coordinator at BMH, were instrumental in compiling all of the resources in the booklet. Last year they began working with departments from across BMH and determined that consolidating local health and human services resources would be helpful to our community. They designed the Community Resource Booklet with physicians, employees of Bingham Healthcare, patients, and community members in mind.
"We care deeply about our community members and want to be sure that everyone has access to valuable community resources," says Wuest.
 "We know our community has needs outside of traditional medical care and we would like to do what we can to help community members connect to these services," says Brown. "By supporting the health of our patients both in and out of the hospital, we believe that we can increase the well-being of our community."
 Within the booklet, there are descriptions and contact information about the following types of community services:
Abuse
Bingham Memorial Community Resources
Bingham Memorial Primary Care Providers
Your Primary Care Provider and You
Bingham Memorial Professional Development Resources
Counseling, Mental Health, and Support Groups
Disability Support Services
Drug, Alcohol, and Tobacco Resources
Early Childhood Development and Parenting
Education and Job Training
Food Resources
Health Insurance
Legal Aid
Rent, Utility, and Housing Assistance
Senior Care
Tribal Health
Youth Engagement and Mentoring
As Jake Erickson, CEO of Bingham Healthcare, explains, this booklet will offer many benefits to our community: "If you are a healthcare provider, I hope that the information contained in this booklet will assist as you help your patients and their families live their best lives. If you are a member of the community, I hope that you will feel empowered to use this resource to navigate the services available throughout Eastern Idaho.
To download an electronic copy of the resource booklet, or to request a free printed copy, go to: www.BinghamMemorial.org/community-resource-booklet
Return to Articles