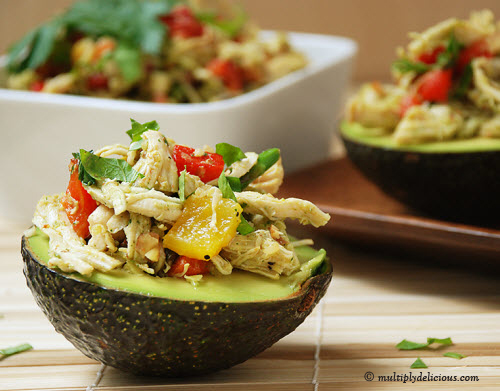 Chicken Salad with Roasted Red Pepper in Avocado Cups
(adapted from: www.multiplydelicious.com)
Forget everything you think you know about chicken salad. Our staff's favorite recipe takes it to new and healthier heights with loads of freshly chopped herbs and a zesty mustard dressing.
Makes about 6 to 8 servings of salad
DIRECTIONS: *To Roast Bell Peppers Preheat oven to 450 degrees. Line a baking sheet with foil and spray with oil, set aside. Cut the peppers in half and clean out the seeds and innards. Place them on a baking sheet skin sideup. Bake peppers for 15 to 20 minutes. Once the skins are brownish-black, remove from the oven and immediately place the peppers in a large ziploc bag. Close and let sit for 20 minutes or so (or until the peppers have time to cool and "sweat"). Once they have cooled you will be able to peel the skins right off. What you will have left is a moist, wonderfully cooked pepper. Yummy!
DIRECTIONS: For Chicken Salad Put the bay leaves and the chicken broth in a large pot with a lid and bring stock to a simmer. Add the chicken breasts to the pot. Return the broth to a simmer. Cover the pot. Turn off the heat. Let the chicken steep in the stock for 30 minutes to an hour.
While the chicken is cooking, chop the other ingredients -garlic, almonds, onion, asparagus, basil, parsley, roasted bellpeppers – and add to a large bowl. Sprinkle with a little salt and pepper.
When the chicken breasts are cooked, remove them from the broth and let them cool. When they are cool enough to handle, shred the chicken breasts into bite-size pieces by hand. Mix the chicken pieces in with the rest of the ingredients.
DIRECTIONS: For Dressing in the bowl of a food processor combine parsley, basil, applecider vinegar, mustard, garlic, and salt. While food processoris running slowly add olive oil in a small drizzle. You may have to stop the food processor to scrape the sides. You want the mixture to come to a liquid consistency. Add fresh groundpepper to taste. Add dressing to chicken salad and toss to combine.
Serve chilled or at room temperature. Or inside a halved avocado.Take an avocado, remove pit, and place chicken salad in the inside.
Return to Articles