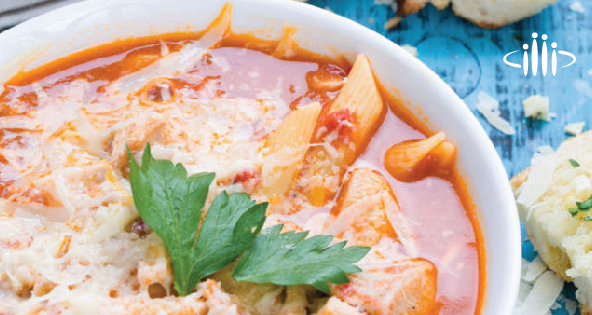 Chicken Parm Soup
Chicken Parm Soup
(adapted from: www.delish.com)
That pesky groundhog saw his shadow, which means 6 more weeks of winter. Warm up any night of the week with this delicious, hearty soup that's sure to help you escape to Italy!
TOTAL TIME: 0:35
PREP: 0:30
LEVEL: EASY
YIELD: 4
INGREDIENTS
• 1 tbsp. extra-virgin olive oil
• 1 large onion, diced
• 3 cloves garlic, minced
• 3 tbsp. tomato paste
• 1 tsp. crushed red pepper flakes
• 1 15-oz can diced or crushed tomatoes
• 6 c. low-sodium chicken broth
• 8 oz. (half box) penne
• 12 oz. breaded chicken (cooked and cut into 1″ pieces) or cooked boneless skinless chicken breasts (cubed)
• 1 1/2 c. shredded mozzarella
• 1 c. freshly grated Parmesan, plus more for garnish
• 1 tbsp. freshly chopped parsley, plus more for garnish
• Coarse salt
• Freshly ground black pepper
DIRECTIONS
1. In a large pot, heat oil over medium heat. Add onion and cook until tender and golden, 6 minutes. Add garlic and cook until fragrant, 1 minute more. Stir in tomato paste and crushed red pepper flakes.
2. Add canned tomatoes and chicken broth and bring to a simmer. Add penne and cook until al dente, 8 to 10 minutes, then add chicken, mozzarella, Parmesan, and parsley and season generously with salt and pepper. Let cheese melt, then ladle into bowls.
3. Serve topped with more Parmesan and parsley.
Click here for printable version
Return to Articles