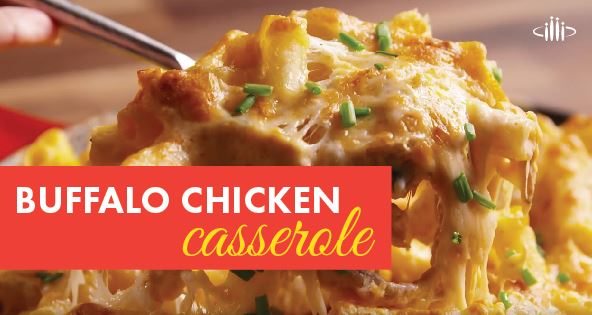 Buffalo Chicken Casserole
BUFFALO CHICKEN CASSEROLE
(adapted from delish.com)
This big, bold dish delivers all of the classic bu­ffalo chicken flavor you
love, and combines rotisserie chicken, cauliflower, and 3 diff­erent
creamy cheeses, coupled with bu­ffalo sauce and ranch dressing!
Ready in less than 1 hour.
TOTAL TIME: 55 min
LEVEL: EASY
SERVES: 4
INGREDIENTS
· 1 Head cauliflower, cut into florets
· 2 tbsp. Extra-virgin olive oil
· Kosher salt
· Freshly ground black pepper
· 12 oz. Softened cream cheese
· 1/3 c. Buffalo sauce
· 1/4 c. Ranch dressing, plus more for drizzling
· 1/3 c. Sliced green onions, plus more for garnish
· 1 tbsp. Garlic powder
· 2 c. Shredded rotisserie chicken
· 1/2 c. Shredded cheddar
· 1/2 c. Shredded Gouda
DIRECTIONS
Preheat oven to 450 degrees F.
In a baking dish, toss cauliflower florets with olive oil and season with salt and pepper.
Bake until tender, 20 minutes.
Reduce oven temperature to 350 degrees F.
Meanwhile, in a medium bowl, stir together cream cheese, buffalo sauce, ranch, green onions, and garlic powder until combined. Set aside.
Toss rotisserie chicken with roasted cauliflower in a baking dish and spread cream cheese mixture on top.
Top with cheddar and Gouda and bake until cheese is completely melted and bubbly, 20 minutes.
Let cool 10 minutes, then drizzle with ranch and garnish with green onions or chives and serve.
Return to Articles