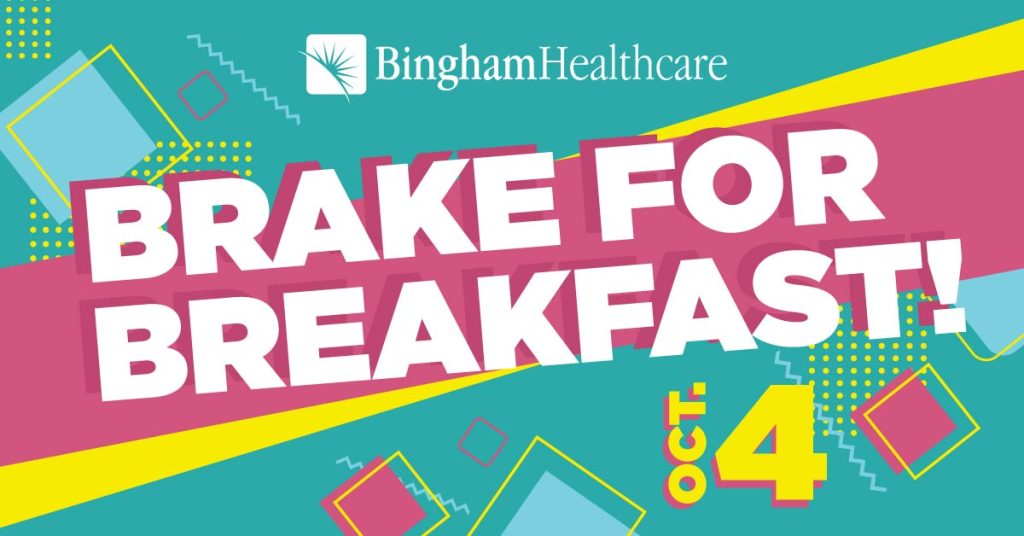 Brake for Breakfast – 2023
October is Breast Cancer Awareness Month and, once again, we are pleased to announce that we will be holding our annual Brake for Breakfast. You are invited to join us in front of Bingham Memorial Hospital at 98 Poplar St. in Blackfoot to pick up a free breakfast bag.
Wednesday, October 4, 2023, starting at 6 a.m. (While supplies last.)
Women on their way to work, out running errands, or after dropping their kids off at school can brake directly in front of our hospital and pick-up a free breakfast, women's health information, and pink gifts.
Stop at Breakfast Junction to pick-up healthy breakfast items, a drink, and other goodies. Then, swing by Information Way where our physicians will give participants information packets about breast cancer awareness. And, at the final stop, Pink Place, everyone will receive several pink gifts that will serve as reminders of our continued fight against breast cancer.
Our annual Brake for Breakfast event serves as a reminder of the importance of mammograms and early screenings. We're dedicated to making sure women of all ages have the most up-to-date cancer information to stay as healthy as possible. This powerful event also highlights that cancer never sleeps and to honor those who have lost their life to cancer and those who bravely continue on with the fight.
In the United States, breast cancer is one of the most common forms of cancer in women, and the most frequently diagnosed. In 2023, an estimated 297,790 new cases of invasive breast cancer are expected to be diagnosed in women in the U.S., along with 55,720 new cases of non-invasive (in situ) breast cancer, according to breastcancer.org. And, about 43,700 women in the U.S. are expected to die in 2023 from breast cancer.
However, breast self-exams save thousands of lives each year, and regular screenings—a combination of mammograms, clinical breast exams, and self-exams—can help catch cancer earlier, when it's easier to treat.
GET A REGULAR CHECKUP
The radiology team at Bingham Memorial Hospital encourages women to get a mammogram during the month of their birthday. Mammograms and self-breast exams are the key to early detection and an increased chance of survival. The American Cancer Society encourages women to conduct self-examinations beginning in their early 20s. Women should begin receiving yearly mammograms at age 40.
SCHEDULING YOUR MAMMOGRAM IS EASY!
Call your physician's office when it's time for your annual mammogram. If you don't have a physician, call the Bingham Healthcare Women's Center at (208) 782-3900 and they can help you to schedule an appointment.
Meet our Women's Health providers.
STAY HEALTHY & RELAX
Eat more fruits, vegetables, and maintain a healthy weight. Also, stop smoking and drinking alcohol, both of which increase the likelihood of breast cancer. Spend time with family, meditate, do yoga, find a new hobby, or anything else that will help to reduce the stress in your life.
Please join us as we celebrate good health and prevention. Tell your family and friends about this event as well. You never know, this breakfast could save a life.
Return to Articles