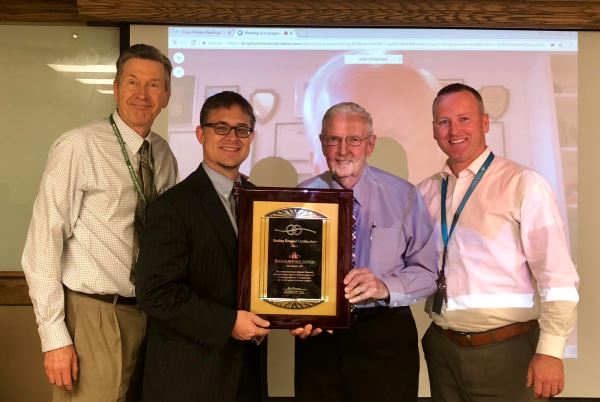 BMH's Healing Hospital Certification Renewed for 2018-19
BLACKFOOT, Idaho – September 5, 2018 – We are pleased to announce that Bingham Memorial Hospital's (BMH) Healing Hospital Certification? has been renewed for 2018-19. This renewal comes after an extensive onsite visit by Todd Meador, Erie Chapman Foundation certifying representative.
"As a Healing Hospital, we are committed to excellence and providing our patients with high quality and compassionate care in a loving manner," said Jake Erickson, CEO at BMH. "Having our Healing Hospital Certification renewed reaffirms our ongoing commitment to always delivering a higher standard of exceptional care in a holistic way that everyone deserves."
Recognizing BMH as a Healing Hospital acknowledges the exceptional quality of the hospital and their commitment to developing and sustaining a culture of Radical Loving Care. The Erie Chapman Foundation has also recognized the Mayo Clinic, the Cleveland Clinic, Riverside Methodist Hospital (OhioHealth), and the Baylor Scott & White health systems as examples of peak performing organizations where Radical Loving Care is part of the culture.
"I am very impressed with the work that Jake Erickson and his leadership team have been doing to continue to elevate and enrich their workplace culture," Mr. Meador said. "Because Bingham Memorial has more than 1,000 employees and physicians, the biggest goal for them was to continue maintaining a culture where everyone continues to pass the Mother Test™. Bingham Memorial continues to demonstrate they have a culture focused on loving care, supported by exceptional leaders."
Every hospital claims to be healing and caring. But, at its core, Radical Loving Care asks a harder question: "Is every single caregiver someone you would trust taking care of your mother?" This is the Mother Test™ and it is an extremely difficult standard to reach.
Once again, BMH passed the Foundation's Mother Test™, validating that they deliver improved patient care (and thus patient satisfaction) in every area by enhancing the human experience for everyone facing a healthcare challenge. BMH also met essential criteria for staffing, training and facility infrastructure, and protocols for communication and patient care.
"The Healing Hospital Certification means that Bingham Memorial has met the standards required of a culture that practices Radical Loving Care, which we take very seriously," said Michael J. Harris, patient experience coordinator at BMH. "We have many programs in place that inspire Bingham Memorial employees to examine what Radical Loving Care is from a variety of different angles."
"Everyone worked so hard for this achievement, and we are extremely proud to have had our Healing Hospital Certification? renewed," Mr. Erickson said. "The renewal of this certification helps to instill my belief that sincere compassion drives the highest skill and quality of care and that true healing only occurs when compassion is part of the cure."
Photo: Receiving the Healing Hospital Certification? left to right are BMH Patient Experience Coordinator, Michael J. Harris; Todd Meador, Erie Chapman Foundation certifying representative; Dean Jones, BMH Board Member; and, Assistant Administrator at BMH, Mark Baker.
Return to Articles