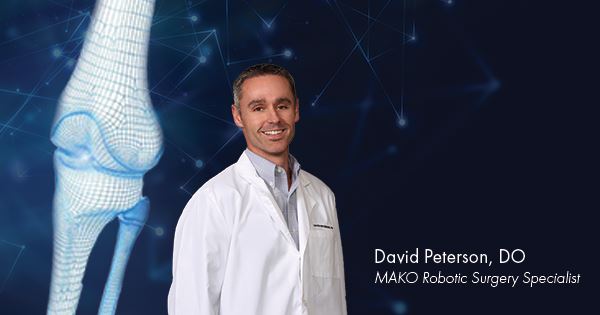 BMH Now Offering Newest Technology in Knee & Hip Replacement with the Mako Robotic-Arm Assisted Surgery System
BLACKFOOT, ID – May 18, 2017 – Bingham Memorial Hospital (BMH) is now the first hospital in Eastern Idaho to offer knee and hip surgeries with Mako Robotic-Arm Assisted Surgery System. This latest advancement in joint replacement surgery transforms the way knee & hip reconstruction is performed.
"With the addition of the Mako, Bingham Memorial now has one of the most comprehensive robotics programs in the United States, rivaling technology you could only find at large academic centers in major metropolitan areas," said Jeff Daniels, CEO of BMH. "We are proud to be the first hospital in our region to offer this highly advanced robotic technology. Adding the Mako System to our orthopedic service line further demonstrates our commitment to provide the community with world-class healthcare."
With the wave of an aging population, total knee replacements in the United States are expected to increase 673 percent by 2030.1 Mako Total Knee combines an advanced robotic technology with its clinically proven "GetAroundKnee" (Triathlon Total Knee System), which enables surgeons to have a more predictable surgical experience with increased accuracy during surgery.2 This system is designed to replace the knee's naturally circular motion and offer enhanced stability through the active range of motion. Knees are not the only anatomy where Mako improves surgical precision and outcomes. Mako can also be used for total hip replacements.
The Mako System is designed to relieve the pain caused by joint degeneration due to osteoarthritis. Through CT-based 3D modeling of bone anatomy, surgeons can use the Mako System to create a personalized surgical plan and identify the implant size, orientation, and alignment based on each patient's unique anatomy. The Mako System also enables surgeons to virtually modify the surgical plan intra-operatively and assists the surgeon in executing bone resections. Knee and hip reconstructive surgeries performed with the assistance of the Mako System increase surgical precision, decrease hospitalization, and speed up recovery times, improving surgical outcomes and quality of life while saving patients both time and money.
"Mako robotic-arm assisted surgery is changing the way joint replacement procedures are performed by providing each patient with a personalized surgical experience based on their specific diagnosis and anatomy," said David J. Peterson, DO, orthopedic knee and hip replacement specialist at Bingham Memorial's Orthopedic Institute. "Using a virtual 3D model, the Mako System allows surgeons to create each patient's surgical plan pre-operatively, before the patient even enters the operating room. During surgery, the surgeon can validate that plan and make any necessary adjustments while guiding the robotic-arm to execute the procedure exactly as planned. It's exciting to be able to offer this transformative technology to perform knee and hip replacements to the patients of Eastern Idaho."
VIDEO: Dr. David Peterson explains the patient benefits of Mako Robotic-Arm Assisted Surgery System.
https://youtu.be/xSjUDKgVBDo
VIDEO: About Mako Hip and Knee Surgery at Bingham Memorial Hospital.
For more information, visit binghamhealthcare.org/mako or call (208) 782-2999.
About Stryker Mako Robotic-Arm Assisted Surgery
http://www.stryker.com/en-us/products/Orthopaedics/MakoRobotic-ArmAssistedSurgery/index.htm
1. Kurtz AAOS. Total knee and hip replacement projections 2030. www.prnewswire.com/news-releases/total-kneeand-hip-replacement-surgery projections-show-meteoric-rise-by-2030-55519727.html. Accessed July 4, 2016.
2. Hampp EL, Scholl LY, Prieto M, Chang T, Abbasi AZ, Bhowmik-Stoker M, Otto JK, Jacofsky DJ, Mont MA. "Accuracy Assessment of Robotic and Manual TKA in a Cadaveric Model." Robotic-arm assisted total knee arthroplasty demonstrated greater accuracy to plan compared to manual technique. ORS 2017 Annual Meeting. San Diego. Poster No.2412.
Return to Articles