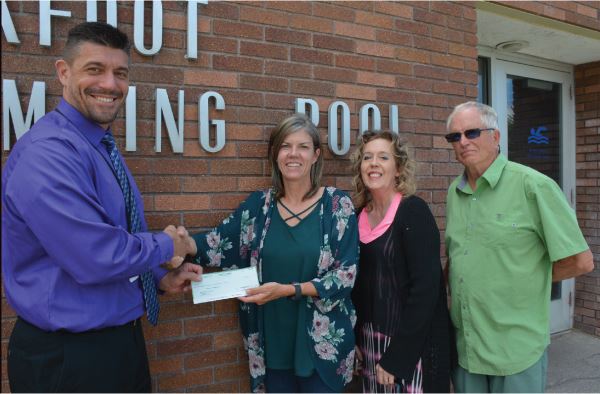 BMH Donates Money to the Blackfoot Municipal Swimming Pool
BLACKFOOT, Idaho – June 6, 2018 – Today, Bingham Memorial Hospital (BMH) presented Jeanette Spears with a check for $1,000. Spears is the aquatics manager at the Blackfoot Municipal Swimming Pool, and this donation will provide funding for equipment to conduct swimming classes.
The money will be used to purchase equipment for kids/youth classes being offered this summer. Some of the classes will use Fin Fun mermaid tales (www.finfun.com). Fin Fun is based in Idaho Falls, and they work closely with Dawn Enterprises (dawnent.org), which is located in Blackfoot and assists individuals with mental, physical, or social disabilities to achieve independence.
"Supporting the Blackfoot indoor swimming pool is only fitting," said Matt Look, director of marketing and PR at BMH. "This aligns with our goals and initiatives to promote health and wellness in the community, and we're proud to be helping out. We strongly believe in wholesome recreational activity for people of all ages in our community."
According to the Centers for Disease Control and Prevention, physical activity in childhood is associated with improved strength and endurance, reduced stress and anxiety, lower body mass index, and improved cholesterol and blood pressure. In addition, physical activity in childhood helps to ward off chronic diseases such as diabetes, cardiovascular disease, and certain types of cancers.
"We especially want to do everything we can to encourage activity among kids," said Look. "Not only is swimming is one of the best exercises for the body, but, considering the extent of the beautiful lakes, rivers, and ponds in Idaho, it's extremely important kids learn to swim at an early age so they can be as safe as possible around our waterways."
When the Blackfoot Municipal Swimming Pool first opened to the public on April 2, 1973, it was hailed as the "best facility in the region" and an "architectural masterpiece." For 45 years, thousands upon thousands of people have benefitted from the indoor swimming pool and a wide range of activities have been offered at the pool, including everything from swimming and diving to underwater ballet, fly-casting, and scuba diving.
"We are extremely grateful for Bingham Memorial's support," says Spears. "Their donation will benefit the children, youth, and families of Eastern Idaho, and continue to promote healthy living, community recreation and fun, and family togetherness. Not only is Bingham Memorial a huge supporter of keeping the pool open, but, based on a recent poll, more than 80 percent of local residents want the pool to remain open (and fixed up) for current and future generations to enjoy."
Return to Articles