BMH Announces with Cardio Renal Centers of America the Construction of State-of-the-Art Surgery Center, Catheterization Laboratory, and Medical Office Building
BLACKFOOT, ID – September 25, 2017 – Bingham Memorial Hospital (BMH), in conjunction with Cardio Renal Centers of America (CRCA), is excited to announce the groundbreaking ceremony of a new, state-of-the-art surgery center and catheterization laboratory in Idaho Falls.
Please join us under the giant white tent on East Sunnyside Road, Idaho Falls, just in front of the Fairwinds Senior Living Center (3310 Valencia Dr., Idaho Falls, ID 83404) on Thursday, October 5, 2017 at 11:30 am.
This event will include a keynote speech from Lieutenant Governor of Idaho, Brad Little, and speeches from Drs. Fahim Rahim and Naeem Rahim. Refreshments will be served. Media packets with press release and renderings will be provided to all reporters who attend.
At just over 25,000 square feet, this new medical facility will also include physician offices for outpatient clinic visits for cardiology, nephrology, interventional radiology, and interventional pain management, along with offering the latest technology in the region for peritoneal dialysis.
Additional Information about Cardio Renal Centers of America (CRCA)
The first of its kind, CRCA's coordinated care model offers cardiology, nephrology, and interventional radiology services under one roof in a multi-disciplinary medical clinic that cares for patients suffering from heart and kidney disease. To learn more please watch the video found here.
About Bingham Memorial Hospital
Bingham Memorial Hospital is a 501(c)3 non-profit critical access hospital located in Blackfoot, Idaho. Bingham Memorial Hospital is committed to the pursuit of excellence in our endeavor to provide a continuum of quality, compassionate, healthcare services for residents and visitors to east Idaho, in the most efficient and cost-effective manner possible. They have healthcare facilities in Blackfoot, Idaho Falls, Pocatello, and Shelley, Idaho. For more information, visit binghamhealthcare.org or call (208) 785-4100.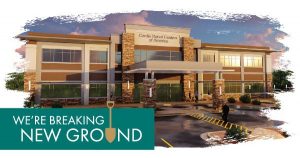 Return to Articles