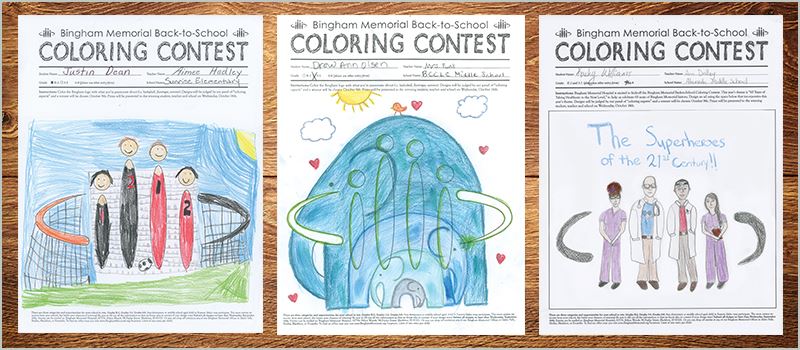 Bingham Memorial Hospital Announces Winners of Regional Back-to-School Coloring Contest
Bingham Memorial Hospital is pleased to announce the winners of their regional Back-to-School Coloring Contest.
The winner of the Grades K-2 category is Justin Dean, Sunrise Elementary School, in Shelley, Idaho. Teacher Name: Aimee Hadley
The winner of the Grades 3-5 category is Drew Ann Olsen, Blackfoot Charter Community Learning Center (BCCLC) in Blackfoot, Idaho. Teacher Name: Brenda Funk
The winner of the Grades 6-8 category is Kaeley Williams, Alameda Middle School in Pocatello, Idaho. Teacher Name: Anne Dalley.
The winning entries were chosen from nearly 6,000 entries from elementary and middle school aged children throughout eastern Idaho. Each of the winners received $3,000 for their school and $500 for their classroom. In addition, each winner received a bicycle and helmet.
"One of the remarkable things that struck me while reviewing the entries was how young people were able to turn their ideas about what Bingham Memorial Hospital meant to them into such creative and imaginative artistic expressions," says Louis Kraml, CEO of Bingham Memorial Hospital. "Everyone who participated should be proud of their artwork. I was extremely impressed by the creativity of each submission and the high levels of young artistic talent."
Bingham Memorial Hospital would like to personally thank every student who took the time to carefully create and submit such beautiful and thoughtful pieces of artwork. And, they would also like to extend a heartfelt thanks to all of the school administrators and teachers who encouraged such positive participation in the coloring contest.
The winning entries were carefully selected by a panel of "coloring experts" comprised of a diverse group of Bingham Memorial employees. "It was really difficult to choose just one winner from each group," says Hilary Woods, graphic designer at Bingham Memorial Hospital. "The contest was designed to spark imagination and to encourage kids to develop their creative skills. In reviewing all of the fun entries, we saw so much creativity and originality."
"Bingham Memorial Hospital is proud to support the communities we serve by finding unique ways to provide our youth with positive outlets for their creativity, lending to a fun, healthy, and safe learning environment," says Mr. Kraml. "This is just one example of the steps we take on a daily basis to strengthen the communities we so proudly serve."
Return to Articles