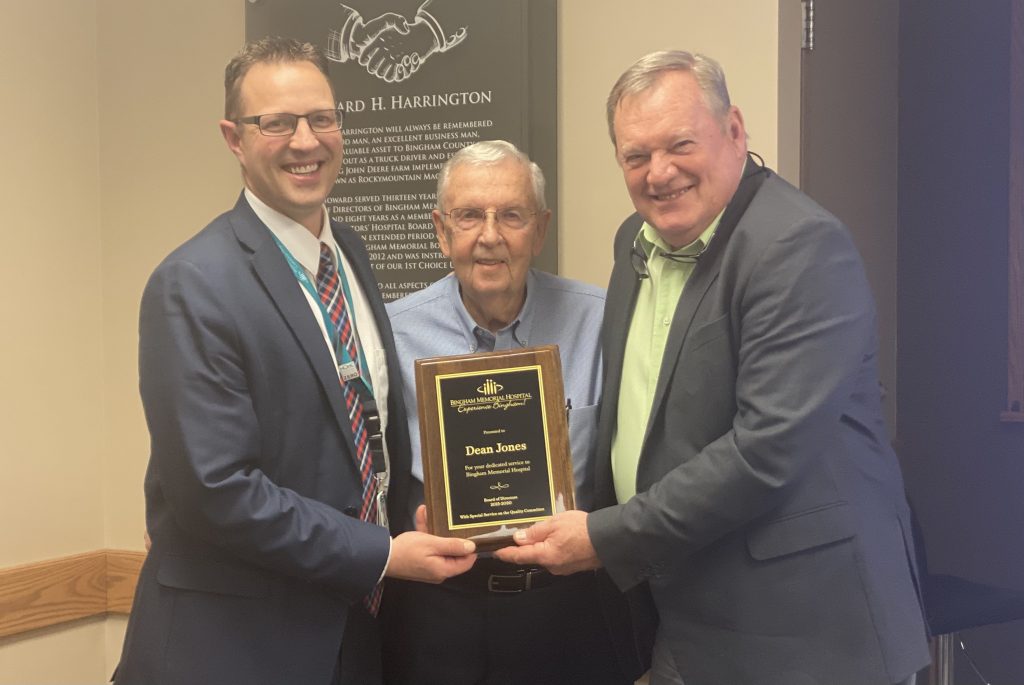 BMH Announces Changes to Their Board of Directors and Presents a Service Award
BLACKFOOT, ID – January 26, 2021 – Bingham Memorial Hospital, a member of Bingham Healthcare, would like to announce that at their board meeting on Monday, January 25, 2021, R. Scott Reese was sworn in as the newest board member by the Chairman of the Board: Gary Baumgartner. And, two people proudly joined the Member Board. Further, Dean Jones, board member, was presented with a plaque, for his six years of loyal service to Bingham's Board of Directors, by Gary Baumgartner and Jake Erickson, chief executive officer at Bingham.
"I am extremely grateful for Mr. Jones's dedicated service to Bingham Memorial and the leadership he provides," said Erickson. "He is an important member who offers valuable oversight on important issues and thoughtful consideration of proposed changes to keep Bingham growing. He is a thoughtful and generous leader who contributes immeasurably to his role, and continues to make a lasting contribution to Bingham and our community."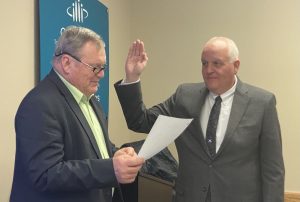 In addition, Mr. Jones and Karalee Krehbiel joined Bingham's Member Board. Bingham Memorial is currently governed by two boards: The Member Board and the Board of Directors. The Member Board is the overarching board that governs their 501(c)3, which requires a representative from every incorporated city in the county. Their chief responsibility is to appoint members to the Board of Directors.
"I am confident that our board will be well served with the addition of Mr. Jones and Karalee to our Member Board and that of Scott to our Board of Directors," said Erickson. "They all bring unique experiences that will help to further our mission and vision. Their diverse backgrounds and unique insights will be invaluable as we continue to experience growth and remain sustainable."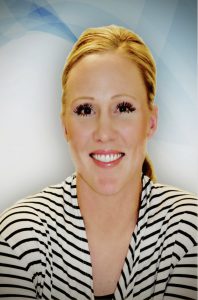 About Karalee Krehbiel
Karalee was born and raised in Aberdeen, ID. She graduated from Aberdeen High School and earned a BSc in Human Resources from Idaho State University (ISU) in Pocatello.
After graduating from ISU, she began working in her families business: Krehbiel's Sales & Service and is currently in her 16th year. In 2009, she joined the Aberdeen Chamber of Commerce Board of Directors and in 2016 became the President where she served for three years. In 2014, she became a member of the Aberdeen City council and is currently in her second term.
Since graduating high school, Karalee has had the opportunity to be involved in the community through civic duties and also coaching at the high school level for 10 years. She enjoys being involved in the community and looks forward to any opportunity to help where she can.
About R. Scott Reese
Scott was born and raised and currently resides in Blackfoot, ID. He is the Emergency Management Director for Bingham County, a position he has held for eight years. He is a graduate of Blackfoot High School and attended ISU studying political science. Scott was elected as Blackfoot's youngest mayor—at age 28—and was the first to serve three consecutive terms. In addition, he was the Community Relations & Employer Outreach specialist at Bingham Memorial for seven years.
Scott serves as Chairman of the Blackfoot Urban Renewal Agency and served as Chairman of the Bingham Economic Development Corporation. He was on the Blackfoot Chamber of Commerce Board of Directors, served as the Bingham County Republican Party Chairman, was on the Board of Directors for the Association of Idaho Cities, and served on the Blackfoot School Board. He served six years as Chairman of the Idaho Employer Support of the Guard and Reserve, and was recently elected as Chairman of REDI, Regional Economic Development for East Idaho.
Return to Articles