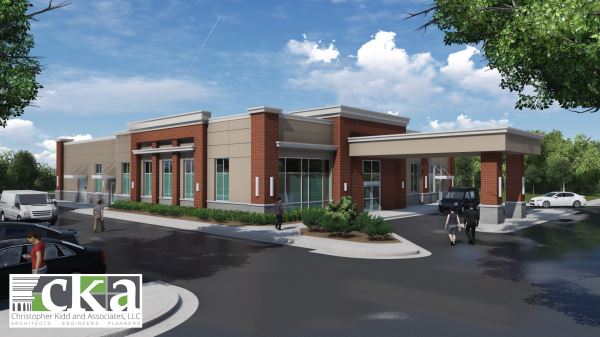 Bingham Memorial Hospital and Idaho Kidney Institute Broke Ground on New Dialysis Center
Today, Bingham Memorial Hospital (BMH), in association with Idaho Kidney Institute, broke ground on their new, state-of-the-art dialysis center. This new facility will be located just north of the Bingham Memorial Medical Plaza, and will offer the latest technology in the region for the care and comfort of patients suffering from kidney disease.
For the past 10 years, Idaho Kidney Institute has provided world-class nephrology and dialysis services to residents of Bingham County. In recent years, Idaho Kidney Institute has outgrown their existing 3,000-square-foot dialysis unit operated within BMH. The new, 11,000-square-foot facility will have approximately 8,000 square feet for dialysis treatment and 3,000 square feet for office space.
Congressman Mike Simpson, of the United States House of Representatives, was the keynote speaker at Thursday's event. Also in attendance were Mayor Paul Loomis, City of Blackfoot; Mark Bair, Bingham County Commissioner; Howard Manwaring, Bannock County Commissioner; and, other city, county, and tribal leaders. Special guests at the groundbreaking ceremony included long-time dialysis patients: Ginger Ciccone, Tena Silveira, and Lila Perdomo. Also in attendance were: Drs. Fahim Rahim and Naeem Rahim, Co-founders and Managing Partners of Idaho Kidney Institute, and Jeff Daniels, CEO of BMH.
The significance of the event was amplified by the fact that the day of the groundbreaking was also World Kidney Day, a global campaign aimed at raising awareness of kidney disease. More than 26 million American adults have kidney disease and most don't know it. Kidney disease is the ninth leading cause of death in the United States. During end-stage renal disease, the kidneys stop working and an individual must begin dialysis treatments three times per week, just to stay alive. Dialysis centers, like the one being built in Blackfoot, save lives every day.
"We chose to hold the groundbreaking ceremony on World Kidney Day because of the positive impact this center will have for individuals suffering from kidney failure," says Dr. Fahim Rahim. "We seek to not only provide the latest in nephrology and dialysis services, but to do so in an environment that is comfortable for our patients."
The architectural firm for the project is Christopher Kidd and Associates with Ted Booth as consulting architect for the project. The building is set to be completed by late fall of this year.
BMH works in partnership with Idaho Kidney Institute to provide dialysis treatment to patients throughout eastern Idaho. Doctors at Idaho Kidney Institute specialize in the treatment and management of kidney diseases related to: chronic kidney disease, diabetes, dialysis, electrolyte abnormalities, high blood pressure, kidney stones, and kidney transplants. They work closely with their patients to minimize the damage to kidney function from high blood pressure and diabetes while providing world-class service and state-of-the-art medicine to the patients of eastern Idaho.
"Drs. Fahim and Naeem Rahim and their partners at the Idaho Kidney Institute share our mission of providing world-class healthcare services to eastern Idaho," says Jeff Daniels, CEO at Bingham Memorial Hospital. "Our on-going partnership with these extraordinary doctors will increase our capacity to serve the residents of Bingham County and individuals throughout eastern Idaho."
Return to Articles