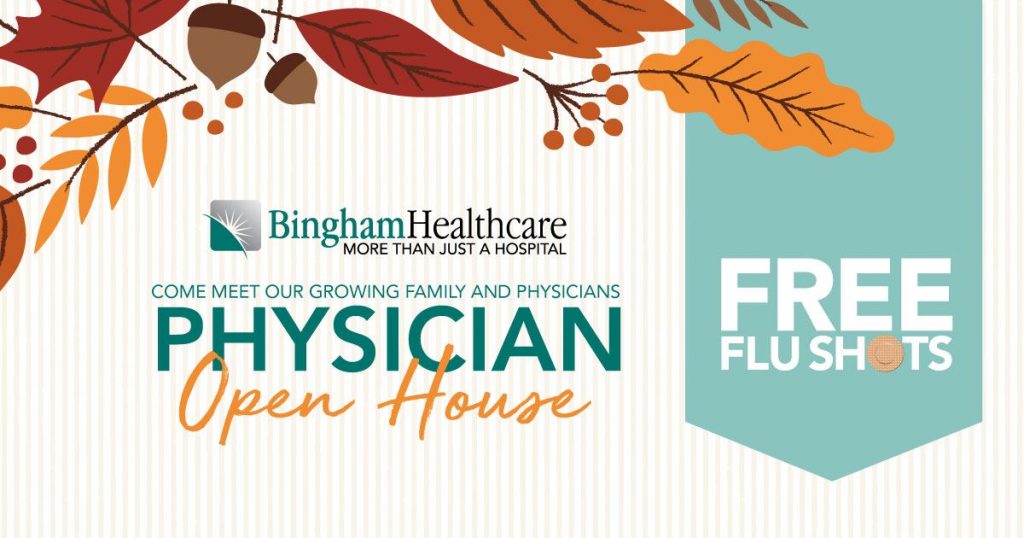 Bingham Healthcare to Hold Open House with Free Flu Shots – 2019
BLACKFOOT, ID – OCTOBER 10, 2019 – Bingham Healthcare will be holding their annual Physician Open House in honor of the 17 new healthcare providers they have welcomed to their medical staff this year. This free event—open to the public—will be held on:
 Thursday, October 17, 2019
6:00 pm to 8:00 pm
Bingham Memorial Medical Plaza
(across the street from the main hospital)
98 Poplar St.
Blackfoot, ID 83221
With the flu season officially underway, FREE flu shots will be available at the Physician Open House. There will also be great food, door prizes, and games for kids and adults alike.
In addition to free flu shots, the Physician Open House in Blackfoot will also be an opportunity for the community to become acquainted with Bingham Healthcare's new medical providers, along with the services and procedures they offer. These new providers continue to help Bingham Healthcare provide high-quality medical care in a caring and compassionate manner.
"To benefit the people of Eastern Idaho, we continue to identify and assemble the most qualified group of healthcare specialists from around the world," says Jake Erickson, CEO of Bingham Healthcare. "Please help us in welcoming our newest providers, eager to deliver you and your family the best medical care available throughout the region."
Since the beginning of 2019, Bingham has welcomed 11 new medical providers and six new internal medicine residents to their growing healthcare network. They have added leading specialists to their medical staff in the areas of clinical psychology, ear, nose, & throat, gastroenterology, mental health, obstetrics & gynecology, pain management, primary care & urgent care, wellness & weight loss, and women's health.
The new providers for these specialties will be on-hand at the Physician Open House for the public to meet and ask questions to. They hope you will attend, get a free flu shot, and enjoy some light refreshments.
"Bingham Healthcare continues to invest significant time and resources to bringing world-class specialists to Eastern Idaho," says Jericho Cline, director of marketing & PR at Bingham Healthcare. "And, to accommodate for our on-going growth and innovative solutions to healthcare, we have brought in new specialists and services that were lacking in this region."
AROUND THE REGION IN 2019
Bingham Healthcare introduced their new weight-loss program in 2019: EM-POW-ER. It features the same high-quality and compassionate care and a dedicated team of weight-loss specialists. They also added numerous components to enhance the program. In addition to non-surgical and surgical weight-loss options, their holistic health and wellness program now includes customizable exercise programs, support groups, and self-improvement classes (e.g., cooking and nutrition as well as yoga and meditation classes). Patients can be seen at offices in Blackfoot, Idaho Falls, and Pocatello.
In addition, a ribbon cutting was held earlier in the year for Bingham's New Leaf Geriatric Psychiatric Unit in Blackfoot. As a much-needed service in Eastern Idaho, the caring and compassionate team at New Leaf focuses on the prevention, evaluation, diagnosis, and treatment of mental and emotional disorders in the elderly.
In Idaho Falls and Ammon, Ammon Medical & Urgent Care (off of 17th Street, just before Ammon Rd.) became a member of Bingham Healthcare.
Further, the Bingham Healthcare Specialty Clinic in Idaho Falls, located just before Sunnyside and Hitt Rd. (25th Street) at 3302 Valencia Dr., continues to thrive after opening last fall. This fully integrated physician office brings doctors from all types of specialties together, who work collaboratively to treat chronic conditions such as cardio and renal diseases, pulmonary diseases, degenerative arthritis and joint pain, and chronic pain management, to name only a few.
https://www.binghamhealthcare.org/comprehensive-care-clinics
"As you can see, it's been another exciting year at Bingham Healthcare, and we have even more plans in place for 2020," says Mr. Erickson. "We invite the community to attend our open house, which will be a great opportunity to meet our new highly caring and compassionate medical practitioners who have joined us this year. I strongly believe that when it comes to healthcare, Idahoans deserve the best and that everyone in Eastern Idaho should have more medical options to choose from. Our growth represents the future of medicine and our vision to improve the quality of personalized care for all patients."
Return to Articles