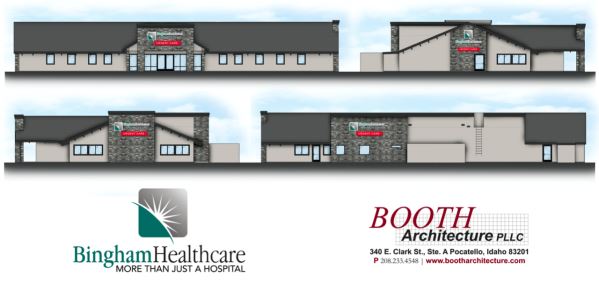 Health-News/bingham-healthcare-to-expand-care-pocatello
BLACKFOOT, ID – April 1, 2021 – Bingham Healthcare is pleased to announce that they will be expanding the medical care they offer in Pocatello. This new clinic will make it more convenient for the community to have affordable medical care and easy access to medical specialists.
The Bingham Healthcare Specialty Clinic & Urgent Care will be housed in a building they recently purchased, conveniently located off of Yellowstone Highway in front of Fred Meyers in Pocatello. The building, which used to be the Golden Corral, is currently being 100% renovated inside and improvements to the exterior are being made. The architect for the project is Ted Booth. The project is set to be completed by November 1, 2021.
"The medical building will be home to world-class doctors to serve the citizens of the City of Pocatello, as well as provide greater access and more options for all of Bannock County," said Jake Erickson, CEO of Bingham Healthcare. "We will offer outpatient and urgent care services and will focus on the patient-centric model we have been cultivating throughout the region for decades."
This model is similar to the Mayo Clinic model and in line with the concept Bingham Healthcare has established at their extensive Blackfoot campus and the Bingham Healthcare Comprehensive Cares Clinic in Idaho Falls. Bingham also has a similar clinic in Shelley, which has an urgent care and offers women's health services, family medicine, and respiratory care—all in the same building.
"We have seen extremely positive results for being the first in the region to implement this type of patient-centered model," said Mr. Erickson. "We are pleased that we can continue to expand this model of medical care in Pocatello."
The Bingham Specialty Clinic will have bariatric surgeons, cardiologists, gastroenterologists, general surgeons, neurologists, pain management specialists, plastic surgeons, and primary care physicians. And, if a patient is first seen in the urgent care and needs specialized treatment, these medical specialists will be on-hand to assist the patient in the same building.
"At Bingham Healthcare, we believe we do things differently. Things that make the patient experience better," explained Erickson. "It's the Bingham Way that we are committed to making available to the people of Eastern Idaho."
And, it's not only Idahoans who are benefiting from the medical care Bingham provides.
"We have patients that travel from all over the United States to meet with Bingham specialists," said Erickson. "Programs like our renowned orthopedic institute, world-class Empower Weight Loss Clinic, and our world-renowned autoimmune disease & functional medicine clinic, to name a few."
The Urgent Care
The medical providers in Bingham's new urgent care in Pocatello will treat minor emergency and illness needs (when a condition is urgent or serious, but not life threatening), including:
Accidents
Acute back problems
Allergic reactions
Breaks and minor broken bones & fractures
Eye irritation & redness
Fever or flu symptoms
Lacerations
Injuries from accidents & falls
Respiratory illnesses
Sore throat or cough
Sinus infections
Skin rashes & infections
Sprains & strains
Sports physicals
Stitches
Urinary tract infections
Vomiting or diarrhea
"We're passionate about helping people throughout the region stay healthy, and our caring and compassionate doctors, nurse practitioners, and physician assistants are a great team of caregivers committed to that mission," said Erickson. "Because we are aware of the exponential growth our region is experiencing, we continually strive to be innovative, creative, and seek opportunities to extend our world-class medical services throughout the region. We want to keep up with the growing demand for high-quality medical care so everyone who needs medical treatment can receive it, quickly and efficiently."
Our content is reviewed regularly and is updated when new and relevant evidence is made available. This information is neither intended nor implied to be a substitute for professional medical advice. Always seek the advice of your physician or other qualified health provider prior to starting any new treatment or with questions regarding a medical condition.
Return to Articles