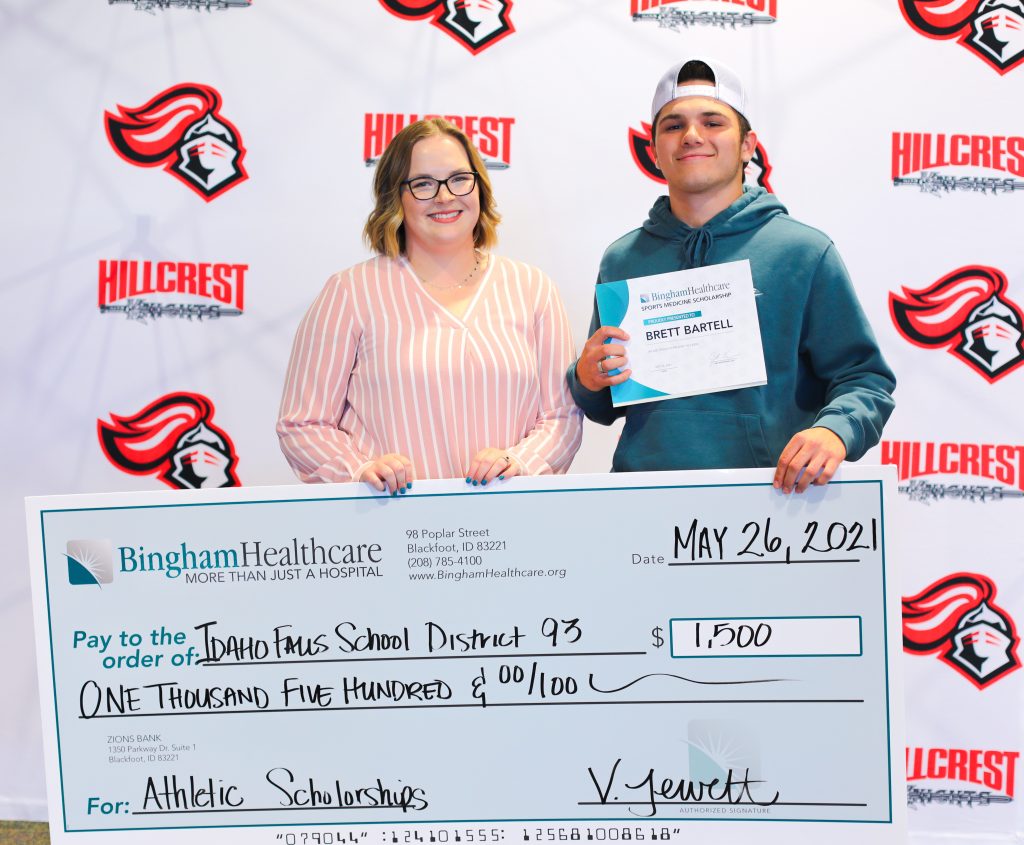 Bingham Healthcare Presented Athletic Scholarship Checks to Local High School Students
BLACKFOOT, ID – June 1, 2021 – Bingham Healthcare is excited to announce that they presented athletic scholarship checks to students and high schools in Districts 91 and 93.
This year Bingham donated a total of $2,500 to the following students and high schools:
Brett Bartell (Hillcrest High School): $500
Caleb Hansen (Skyline High School): $250
Sophie Anderson (Skyline High School): $250
Thunder Ridge, Bonneville, and Idaho Falls High Schools each received $500 for the athlete(s) of their choosing.
"We'd like to congratulate all of the well-deserving athletes who are and will be the beneficiaries of these scholarship funds," says Valerie Jewett, director of marketing and public relations at Bingham Healthcare. "Bingham has close ties with local East Idaho high schools and their athletic programs throughout East Idaho, and we're excited to be able to give back in this way."
In addition to being the official team doctors for the Idaho Falls Chukars, Bingham's nationally certified and Idaho-licensed athletic trainers are leaders in sports safety and work tirelessly to create a safer environment for student athletes at almost all of the Eastern Idaho high schools. They are committed to keeping student athletes safe during physical education classes, team practices, and games, and provide them with complete sports medicine coverage, including free injury assessments.
"We want to support student athletes in any way we can which is why we're pleased to be honoring these exceptional athletics with these scholarships," says Jewett. "This is just another way we support the teams that we love cheering on. As an extension of our healthcare wellness and outreach programs, giving back to the community is what we strive to do
Return to Articles