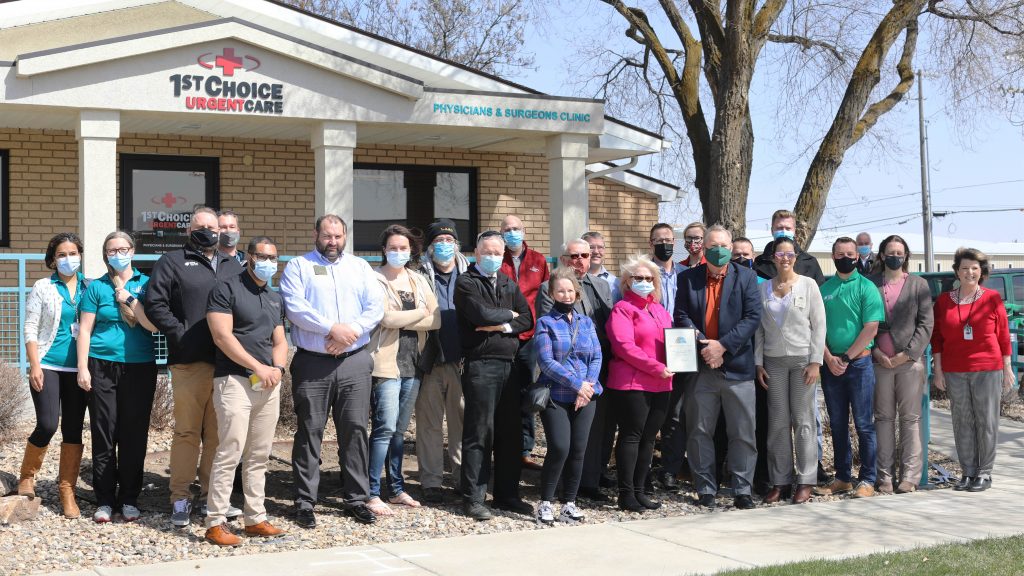 Bingham Healthcare Holds Ribbon Cutting Ceremony to Commemorate the Opening of New Urgent Care in Shelley
SHELLEY, ID – April 8, 2021 – Bingham Healthcare is pleased to announce that they have opened a much-needed urgent care in Shelley. Today, they held a ribbon cutting to commemorate the opening of their fourth urgent care in Eastern Idaho.
During the ribbon cutting ceremony, Jake Erickson, CEO of Bingham Healthcare, gave a short speech and said "I knew that this urgent care was an essential need for the community members of Shelley and the surrounding areas." In addition, light refreshments were served and they gave away several all-purpose first-aid kits to a few lucky attendees.
Conveniently located just off of Yellowstone Highway, 1st Choice Urgent Care is a walk-in clinic—the place to go for immediate care that does not require a trip to the emergency department*. Their latest 1st Choice Urgent Care to open is conveniently located at:
275 West Locust
Shelley, ID 83274
P: (208) 357-3960 | F: (208) 357-3968
The urgent care hours are: Monday through Friday from 8 a.m. to 8 p.m. and 10 a.m. to 6 p.m. on Saturdays and Sundays. No appointments are necessary. Walk-ins are always welcome.
Please note that Dr. Todd Blackner, family medicine specialist; Dr. David Schrader, pulmonologist (respiratory specialist); and, Shandra Averett, FNP-C, MSN, women's health specialist, are still continuing to see patients at this location, too.
"We're passionate about helping people throughout the region stay healthy, and the caring and compassionate doctors, nurse practitioners, and physician assistants at 1st Choice Urgent Care are a great team of caregivers committed to that mission," said Jake Erickson, CEO of Bingham Healthcare. "As a non-profit regional healthcare provider, we continually seek opportunities to extend our world-class medical services to the many communities we serve."
The medical providers at 1st Choice Urgent Care in Shelley treat minor emergency and illness needs (when a condition is urgent or serious, but not life threatening), including:
Accidents
Acute back problems
Allergic reactions
Breaks and minor broken bones & fractures
Eye irritation & redness
Fever or flu symptoms
Lacerations
Injuries from accidents & falls
Respiratory illnesses
Sore throat or cough
Sinus infections
Skin rashes & infections
Sprains & strains
Sports physicals
Stitches
Urinary tract infections
Vomiting or diarrhea
"We're proud that Bingham Healthcare now has urgent cares in Ammon/Idaho Falls, Shelley, Blackfoot, and Pocatello," Erickson said. "And, everyone can expect to receive the same high quality and compassionate care at all of our 1st Choice Urgent Cares as they do from any of the Bingham Healthcare clinics throughout Eastern Idaho."
For a list of all of Bingham's offices and urgent cares, please visit: https://binghamhealthcare.org/find-an-office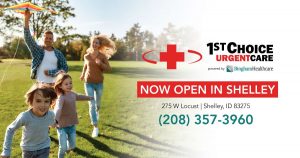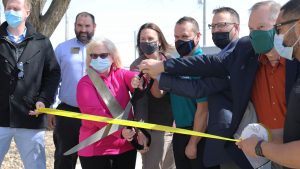 Return to Articles