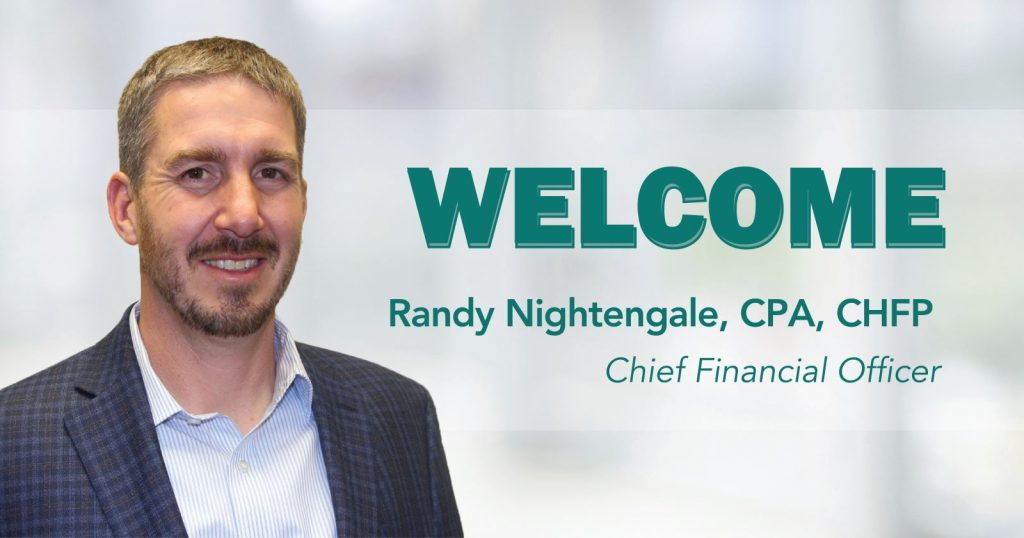 Bingham Healthcare Announces New Chief Financial Officer
BLACKFOOT, ID – February 3, 2020 – Bingham Healthcare is pleased to announce that Randy Nightengale, CPA, CHFP, has joined their administrative team as its new Chief Financial Officer (CFO), effective Monday, February 3, 2020. He is replacing John Fullmer, former CFO at Bingham Healthcare, who retired in 2019.
"I couldn't be more pleased to welcome Randy to the Bingham family, where he will undoubtedly make an immediate impact," said Jake Erickson, CEO of Bingham Healthcare. "I am particularly impressed with Randy's diverse and extensive experience in the healthcare industry. Having someone with his experience to oversee our finances will be critical in supporting our on-going efforts to provide high-quality and compassionate patient care."
As the new CFO, Nightengale will be responsible for ensuring that Bingham Healthcare runs in the most cost-effective manner, including the accounting, insurance, financial systems, and auditing of all medical departments. He will be responsible for managing all financial risks for the organization and handling planning finances and management of records.
"I am excited for the opportunity to be joining Bingham Healthcare as it continues on its path of strategic growth initiatives," said Nightengale. "I've always had a passion to use my skills and knowledge in finance to help better meet the healthcare needs of rural communities. Bingham has already crossed several significant business milestones throughout the last 70 years, and I am excited to lead them through new phases of growth."
With nearly 20 years of experience, Nightengale brings with him an extensive background in healthcare finance, financial planning and analysis, tax, strategic planning, and risk management. Nightengale has served as CFO at several hospitals, including Cody Regional Health in Cody, Wyoming; North Valley Hospital in Whitefish, Montana; Kalispell Regional Healthcare in Kalispell, Montana; Powers Medical Center in Lamar, Colorado; and, Scott County Hospital in Scott City, Kansas.
Nightengale holds a Bachelor of Arts in Business Administration – Ag-Business and Economics from Tabor College in Hillsboro, Kansas, and a Master of Science in Accounting from Tabor College from the Wichita campus. He has a passion for farming and also enjoys flying, camping, fishing, and reading.
Return to Articles