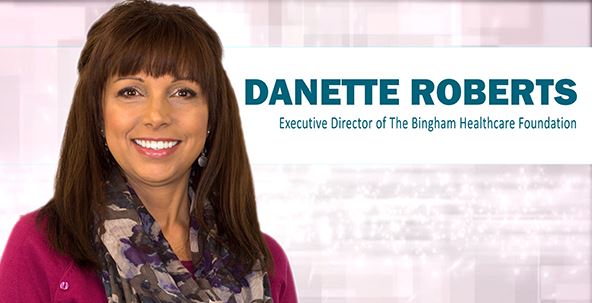 Bingham Health Care Foundation Names New Executive Director
BLACKFOOT, ID – January 30, 2017 – BMH is pleased to announce that Danette Roberts has been named as the new Executive Director of the Bingham Health Care Foundation. With more than 15 years of experience providing leadership, strategic direction, and management within healthcare, she is excited to take on this new role and additional responsibility.
Mrs. Roberts will continue in her current role as the Director of Graduate Medical Education (GME), Research and Grants at BMH as well as take on all responsibilities for the Foundation. She holds a Doctor of Health Education and is also working on her dissertation.
In this role, "I will build upon the hard work of predecessors who have been committed to our Foundation and who have achieved meaningful development for the community," Mrs. Roberts said. "I will work with the Foundation Board of Directors to continue to implement initiatives that result in achieving our mission of enhancing healthcare services to our community."
The mission of the Bingham Health Care Foundation is to develop relationships within the communities it serves, to highlight awareness and access of healthcare, increase the knowledge of healthy lifestyles, and encourage funding sources to enhance healthcare services to community residents. The Foundation raises funds through charitable giving and special events to support high-quality projects, services, and education to maintain and improve the health of eastern Idaho residents.
"I have met many people connected to the community and I sense their passion for helping others," Mrs. Roberts said. "It is this passion and collective strength that can support the good work performed by our Foundation."
Her focus will be on developing priorities and a strategic plan. Mrs. Roberts will work closely with the Foundation Board and said: "I would like to create a variety of gateways where people can participate. I look forward to building on existing relationships and developing new ones in the community."
Mrs. Roberts's service as executive director follows that of Ralph West who has retired from his professional career as he embarks on a religious mission for the LDS church.
All donations are tax-deductible since the Bingham Health Care Foundation is a non-profit entity. For more information about how you can volunteer or make a donation, please contact Danette Roberts at (208) 782-3791 or by e-mail: droberts@binghammemorial.org.
Media Contact:
Mark Baker
Director of Public Relations & Marketing
98 Poplar Street
Blackfoot, ID 83221
c: (208) 534.8906 | fax: (208) 782.2864 | mbaker@binghammemorial.org
Return to Articles